Print Friendly Version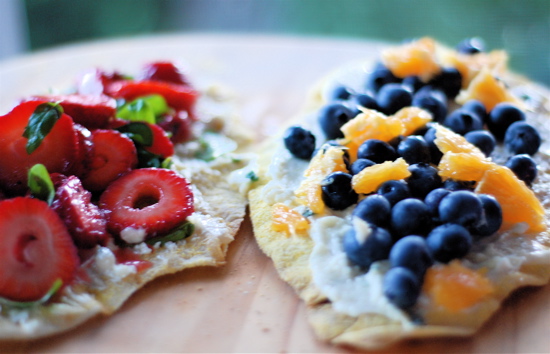 I know I already told you how fast summer is going by for me. I can hardly believe it's already August. We have several little "staycations" blocked out so we can savor the last of this delicious season before autumn. How are you making memories this summer?
One of our favorite things to cook in the summer is grilled pizza. I'm sure I've already told you that too. It's so yummy! If you haven't tried it yet because it seems too complicated, I encourage you to try. After a couple sessions, you'll be a pizza grillin' pro.
The last time we made these I made some extra dough so I could experiment with fresh dessert pizzas. They turned out great, and they're incredibly easy. I've dreamed up all sorts of flavors…the ones pictured above are strawberry basil and orange blueberry….but I'm looking forward to peach bourbon, fig bacon maple, and cherry pistachio chocolate (spumoni!). Let your imagination go wild here.
for the pizzas:
makes 4
Simply follow the directions for making and grilling homemade pizza crust HERE…and instead of adding garlic and italian spices to the crust just add a little cinnamon.
Once the crusts are grilled, allow them to cool.
Combine 8 oz. cream cheese or chevre with 1/3 cup sugar, chopped fresh mint and 2 teaspoons orange or lemon zest.
Spread the cream cheese mixture evenly over the 4 crusts. Top with sliced strawberries and chopped basil and another with fresh orange bits and fresh blueberries. Drizzle with a little grappa or fruit liqueur.
Enjoy with a glass of moscato or prosecco!
~Melissa
You may enjoy these related posts: