Print Friendly Version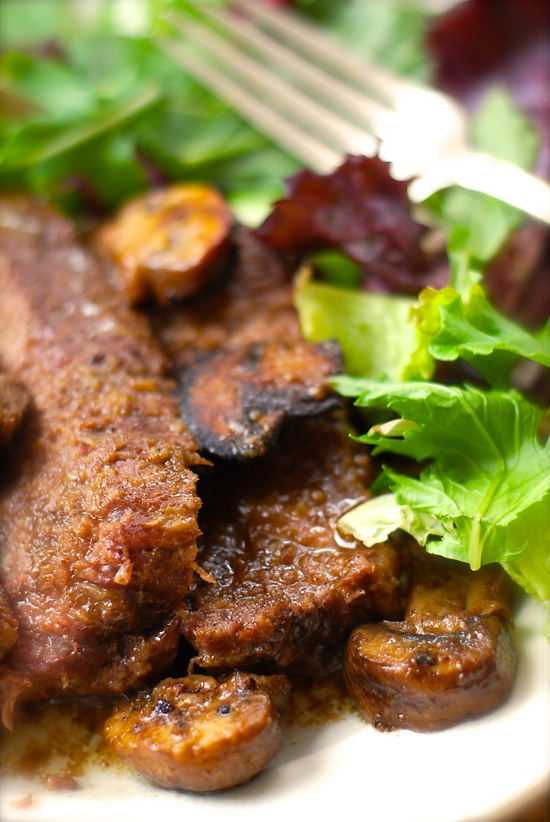 This is one of the best recipes for roast that I've ever made. The original recipe was a little simpler and didn't include red wine. This could be considered comfort food, but it's definitely elegant enough to serve for special dinners. It's fantastic with mashed horseradish potatoes, or parsnip puree and a salad made of bitter greens.
~Coffee Roast~
4 lb. chuck arm roast
flour, salt and pepper for dredging
3 Tablespoons real butter
2 Tablespoons extra virgin olive oil
10 cloves garlic, peeled and halved
1 sweet onion, thinly sliced
8-16 oz. baby bella mushrooms, washed and quartered
1 and 1/2 cups STRONG coffee
1 cup dry red wine
salt and pepper to taste
onion powder
nutmeg
Blot fresh or thawed roast with paper towels. Dredge in a mixture of flour salt and pepper. Place butter and oil in a skillet over medium-high heat. When the butter and oil are hot, but not smoking, place the roast in the skillet. Brown on each side for 3 minutes per side. Place in a roasting pan that has been lined with aluminum foil, with excess foil hanging over the sides of pan for wrapping the roast. With a small, sharp knife make 20 little slits in the top of the roast, as evenly spaced as possible. Place a half garlic clove in each of the slits. Brown the mushrooms and onion in the pan with the butter, oil and beef drippings. Cook until mushrooms have reabsorbed their juice and onions are slightly browned and transparent. Pour the coffee and wine over the roast, followed by the onion and mushroom mixture. Salt and pepper well. Add a bit of onion powder and nutmeg along with the salt and pepper (approximately 1/4 teaspoon each.) Wrap roast, cover with roasting pan lid and cook at 350 for 2-3 hours or until a meat thermometer reads 160 when inserted in center of roast.
When roast is done you can either leave the pan drippings thin and make hot roast beef sandwiches, using the juices as "Au Jus," or you could thicken the juices with a roux over medium heat, using a whisk to keep the gravy from clumping. The thicker gravy is a good accompaniment to mashed potatoes or other root vegetables.
~ Easy Crock Pot Coffee Roast ~
4 lb. beef chuck arm roast
1/2 teaspoon seasoned salt
1/2 teaspoon freshly ground black pepper
1 teaspoon onion powder
a head of garlic, separated, cloves peeled
1 and 1/2 cups hot, strong, brewed coffee
1/2 cup beef broth or stock, room temperature or cold
2 Tablespoons cornstrch
Place roast in slow cooker. Using a sharp knife, make deep slits all over roast and put a peeled garlic clove in each. Sprinkle seasoned salt, pepper, and onion powder on roast. Pour coffee over top. Cover and cook on LOW for 6 to 8 hours, or until falling apart and tender. Remove roast from slow cooker when it's done and cover it to keep it warm and moist. Turn slow cooker to HIGH. Combine broth and cornstarch using a wire whisk. Whisk starch mixture into the drippings in the Crock Pot. Mix well. Cover and allow mixture to simmer and thicken, whisking occasionally, approximately 10 to 15 minutes. (This step can also be done in a large saucepan on top of the stove if you're in a hurry.) Spoon coffee gravy over roast. Serve with mashed potatoes!
Enjoy!
~Melissa
Enjoy!
~Melissa
You may enjoy these related posts: