Print Friendly Version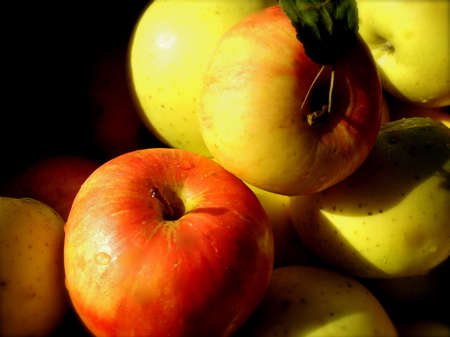 I was in the mood for chicken with a sweet apple topping the other night and came up with this dish. I think it turned out really good. It seems like a perfect recipe for welcoming Autumn, and I think it would be a great company dinner.
~Autumn Apple Bacon Chicken~
4 boneless, skinless chicken breasts thawed and marinated in a little olive oil and white wine
6 slices bacon (reserve drippings)
1 onion, thinly sliced
3 granny smith apples, unpeeled and thinly sliced
2 cloves garlic, minced
3 Tablespoons cinnamon sugar mixture
2 Tablespoons maple syrup
1/2 teaspoon freshly ground pepper
1 shot Jack Daniels whiskey or 1 shot Calvados
1/2 teaspoon Angostura bitters
1/3 cup chopped pecans (optional)
Brown the bacon slices in a large skillet. Set bacon aside and pour drippings into a glass measuring cup. Brown onion and apple slices in the skillet and cook until tender-about 20 minutes. Add minced garlic, cinnamon/sugar, maple syrup, and pepper. Cook until slightly caramelized-about 5 minutes. Add the Jack Daniels and bitters. Cook 2 more minutes. Remove from heat and cover.
Add 3 Tablespoons bacon drippings to the pan. When heated, add chicken breasts. Brown on both sides and cook completely-until juices run clear and chicken is no longer pink. Deglaze pan with a little balsamic vinegar if you wish.
Plate chicken, top with apple mixture and bacon bits crumbled over. Sprinkle with chopped pecans (if you wish.) Salt and pepper to your liking. Serve with cheddar cheese wedges. We had wild rice as a side dish and it was  a wonderful accompaniment. Some other side dish suggestions for this dish: potato latkes, johnny cakes or firecracker sweet potato wedges.
Enjoy!
~Melissa
You may enjoy these related posts: