Print Friendly Version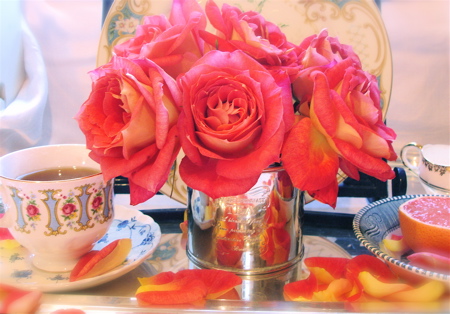 photograph by Melissa Placzek

"Tea to the English is really a picnic indoors."  ~Alice Walker
:: Tea of the Week ::
English Breakfast
English Breakfast tea is not just one kind of tea, but a tea "blend." There are some tea blends that have been created over centuries according to the personal and collective preference of individual tea-drinking nations. The Brits have long preferred a strong, robust blend to wake them up in the morning, much as Americans take their morning cup of coffee. Other blends that I'll cover at a later date include: Irish Breakfast, Indian Breakfast, Earl Grey, Russian Caravan and Afternoon Blend.

English blends have traditionally consisted of teas that offer rich flavor, and a dark, amber liquor. English Breakfast tea almost always contains a blend of teas from Assam, Sri Lanka and Kenya. Some American tea companies use only China Keemun as a base for their English Breakfast blends.
Character: malty, smooth, brisk
Appearance: dark, coppery
:: Tea Fact ::
Black teas are divided into many leaf grade and broken-leaf grade categories. These grades are:
Flowery Orange Pekoe (FOP)– The largest tea leaves. Young, tender, balanced leaves with a correct "tip." The correct tip on a tea leaf assures the savvy tea purchaser that they are buying the very best quality tea.
Golden Flowery Orange Pekoe (GFOP)- This is a flowery orange pekoe with golden tips- the very tip of the yellow leaf buds.
Tippy Golden Flowery Orange Pekoe (TGFOP)- The FOP with the largest quantity of golden tips
Finest Tippy Golden Flowery Orange Pekoe (FTGFOP)- An exceptionally high-quality FOP.
Special Finest Tippy Golden Flowery Orange Pekoe (SFTGFOP)- The very best FOP
Orange Pekoe (OP)- Contains long, pointed larger leaves that are harvested later than that of FOP. Very rarely contains the tea "tips."
Pekoe (P)- Shorter, coarser leaves than OP
Flowery Pekoe (FP)– Contains leaves that have been rolled lengthwise, pieces shorter and coarser than OP.
Pekoe Souchong (PS)– shorter, coarser leaves than pekoe
Souchong (S)– The word 'souchong' means 'sub-variety' in Chinese. This term means that large (overgrown) leaves have been rolled lengthwise to produce ragged, coarse pieces. This is often the variety of tea that is used for smoked teas in China and Taiwan (Lapsang Souchong.)
Broken Leaf Grades- Broken Souchong leaves

Fannings- Tea dust made up of the finest siftings that are left after whole leaves and broken tea leaves have been removed. This is the type of tea you find in many tea bags.
What's in your teacup?
~Melissa

You may enjoy these related posts: