Print Friendly Version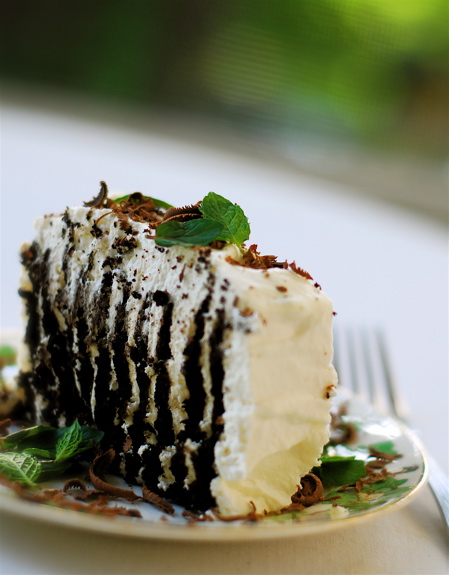 ~ cookies & cream icebox cake ~
My friend Clare introduced me to Nabisco Famous chocolate wafers a while back. I had never cooked with them. She told me about this easy, yummy, icebox cake with three ingredients, and I thought this would be a fun recipe to try with my daughter Gracie, as she is becoming more and more interested in learning the ways of the kitchen and has been trying a few recipes on her own. She makes my recipe for frozen cappuccinos better than I do! What do your kids like to cook?
The cake you see above was made by following the recipe on the box of "Famous" Chocolate Wafers  and grating dark chocolate over the slices before serving. The wafers magically turn into cake as they chill in the refrigerator between layers of vanilla whipped cream. I was surprised at how delicious this turned out, and I'd like to try adding a little mint extract to the cream instead of vanilla the next time I make it. This is wonderful with tea or French press coffee.
Here's the recipe:
Ingredients:
1 tsp. vanilla or mint extract
2 cups whipping cream, whipped + 1/2 cup powdered sugar
1 pkg. (9 oz.) FAMOUS Chocolate Wafers
Preparation:
ADD  sugar and vanilla or mint extract to whipping cream, beat until soft peaks form
SPREAD 1-1/2 tsp. of the whipped cream mixture onto each wafer. Stack wafers together, then stand on edge on serving platter to make a log.
Frost with the remaining whipped cream mixture.
REFRIGERATE at least 4 hours or overnight. Cut dessert diagonally into 14 slices to serve.
Store leftover dessert in refrigerator.
Enjoy!
~Melissa
You may enjoy these related posts: