Print Friendly Version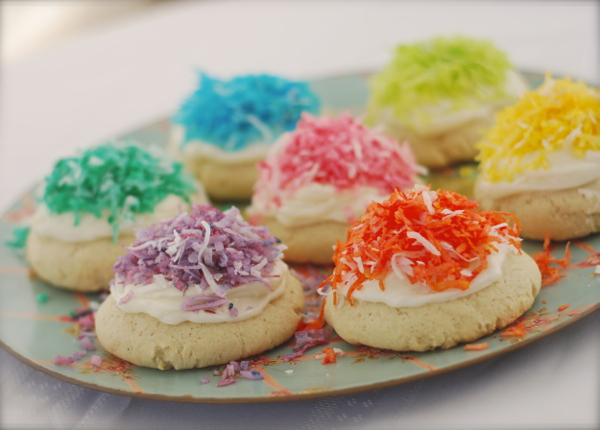 Here's a little cookie recipe I dreamed up after making Lofthouse Cookies. It's based on the same recipe, with one very important difference. This was created for COCONUT LOVERS! I know, coconut is one of those ingredients that people either love or hate. I happen to be a very enthusiastic fan. Love love LOVE it! If you're a coconut fan too, these cookies are for you! They're super soft and would be wonderful served at a children's tea party or birthday party.
for the cookies:
~ preheat oven to 350 degrees F. ~
1 cup sugar
1/2 cup unsalted butter, softened to room temperature
2 large eggs
1/2 cup sour cream (not light)
2 teaspoons pure coconut extract
3 cups all-purpose flour
1 and 1/2 teaspoons baking powder
1/2 teaspoon baking soda
1/2 teaspoon salt
In the bowl of a counter top mixer, using the whisk attachment: Cream sugar and butter. Mix for two minutes until smooth. Add sour cream, eggs and coconut extract. Mix well.
In a separate bowl, sift: flour, baking powder, soda and salt. Slowly add the dry ingredients to the wet ingredients. Switch to the paddle attachment on your counter top mixer and mix just until everything is incorporated and smooth.
Using 3 Tablespoons of dough per cookie, roll each portion into a smooth ball. Place cookie dough balls, 2 inches apart on ungreased cookie sheets. Using the palm of your hand, flatten the dough balls a bit. Bake in preheated oven for 11 to 12 minutes. Immediately remove from oven. Cookies will look under-baked, but don't worry, that's how they're suppose to look. Cool cookies for one minute on the baking sheets and then transfer them to cooling racks to cool completely. Repeat with remaining dough until you use it all. This recipe makes approximately 18 large cookies. Cool Completely before frosting.
for the frosting:
2 cups powdered sugar
1 teaspoon pure coconut extract
1 to 2 Tablespoons whole milk
1/2 cup butter, softened
Mix all ingredients in the bowl of a counter top mixer, using the whisk attachment. Add milk gradually, only using as much as you need to create a fluffy, creamy frosting.  Slather frosting on completely cooled cookies. Add colored coconut topping if you like.
for the colored coconut topping:
sweetened coconut
assorted food coloring
Divide coconut between 7 different bowls (or as many different colors as you want to make.) Put a couple drops of food coloring in each different bowl. (I used pink, neon orange, yellow, aqua green, neon green, turquoise blue and violet.) Using a fork, mix colors into coconut, washing fork before switching colors. Sprinkle colored coconut on iced cookies.
Enjoy!
~Melissa
You may enjoy these related posts: