Print Friendly Version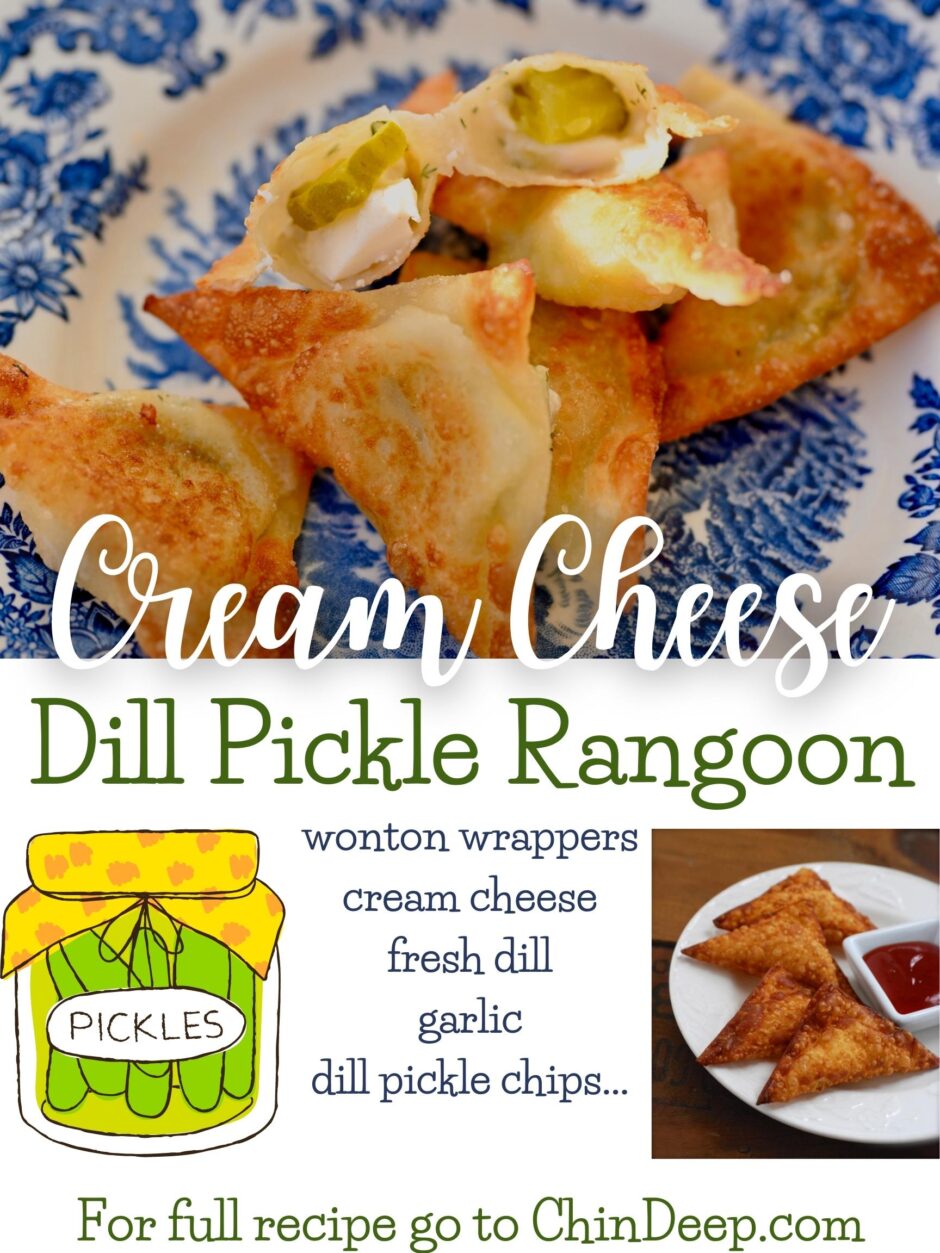 The dill pickle craze still seems to be going full tilt, so I've been figuring out new ways to incorporate them into easy, delicious recipes to share with all of you.
Dill pickles! Dill pickles! Dill pickles!
You see them popping up everywhere in all sorts of unexpected places, like…
Dill pickle pizza, dill pickle tea sandwiches, dill pickle potato salad, dill pickle grilled cheese, dill pickle macaroni salad, retro cream cheese dill pickle roll-ups, as a topping for hot dish, and fried up "state fair style." Have you tried any wacky-yet-delicious dill pickle recipes? Which ones were your favorite?
Well, here's something I whipped up in about 15 minutes. I ran out to the back porch to take a quick picture of it before it completely cooled off. Cream Cheese Dill Pickle Rangoon! I mixed the cream cheese with fresh dill and garlic to give it an extra kick of flavor, but these ingredients are optional.
If you love dill pickles, and if you love cream cheese rangoon/wontons, this is the appetizer for you!
I have other recipes for rangoon on my blog. Crab rangoon (which is easy to veganize with chopped, vegan, plant based shrimp in place of the crab), and vegan cream cheese rangoon.
Pro tip: When making vegan rangoons you need to completely freeze them before frying or the cream cheese will turn to liquid when they fry. Just a heads up.
You'll need:
vegan wonton wrappers
vegan cream cheese, softened to room temperature
dill pickle chips, blotted dry with paper towels
freshly minced garlic (optional)
chopped, fresh dill (optional)
Mix the softened cream cheese with the garlic and dill. Moisten edges of wonton wrappers and put a little dollop of the cream cheese in the center. Place a prepared pickle chip on top of the cream cheese. Fold the wonton wrapper over the filling to create a triangle-shaped dumpling, being careful not to tear the wonton wrapper, and making sure that the edges are completely sealed. Line the wontons up on a parchment-lined cookie sheet and freeze for an hour or two. You want them to be completely frozen.
Heat 2 inches of oil in a large, heavy pot. Add 6 wontons at a time once the oil is very hot and shimmering. (A cube of bread will brown within seconds in this oil once it's hot enough if you want to do a test.) Cook until wontons are golden brown on both sides, transfer to a paper towel lined plate as you cook them.
Serve immediately with ranch dressing or sweet and sour sauce for dipping.
Enjoy!
~Melissa
You may enjoy these related posts: