Print Friendly Version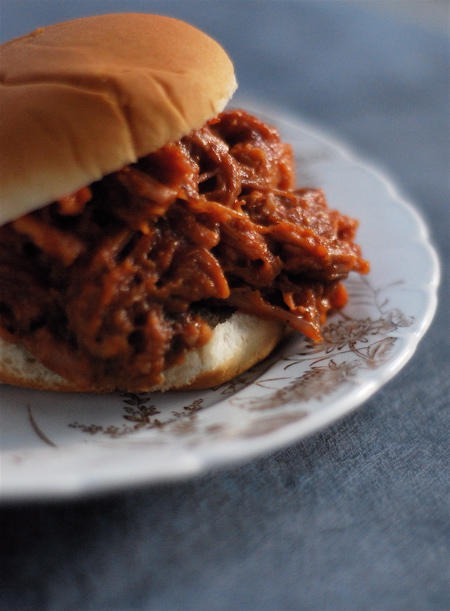 ~ pulled pork ~
Here's an easy recipe for barbecue pulled pork  that's perfect for those scorching summer days when you don't want to heat up the whole house by turning the oven on. It's so flavorful and tender, with minimal ingredients. Serve with refrigerator pickles, slaw and grilled corn on the cob. This is a great dish to make for company, double or triple the recipe for a large crowd if you have a few crock pots.
4 lb. pork shoulder or butt roast
1 cup brown sugar
1 Tablespoon smoked paprika
1 Tablespoon freshly ground black pepper
1 Tablespoon Cajun seasoning salt or Lawry's seasoned salt
1 Tablespoon garlic powder
1 Tablespoon onion powder
2 teaspoons chili powder
hamburger buns
Blot roast with paper towels and place in a big bowl. Combine all of the seasonings and rub the mixture all over the roast. Place in the bowl of a big crock pot and add the loose seasonings along with it. Don't add any liquid. Cover and cook on high for 2 hours. Turn crock pot to low and cook an additional 6 hours or until the roast is cooked through completely and tender when you poke it with a fork. It should shred easily.
Turn crock pot off. Place roast in the bowl of your kitchen aid. Using the paddle attachment, turn the mixer on low until the meat is completely shredded. (or, shred with a large fork if you don't have a tabletop mixer.)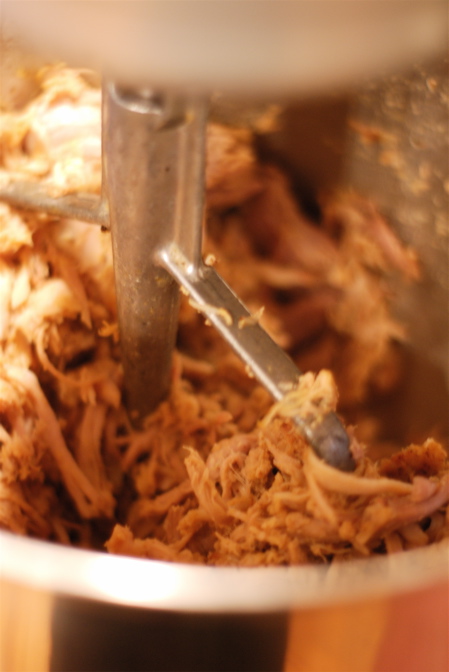 Stir 20-30 oz. of your favorite barbecue sauce into the pork, using a wooden spoon. (If you like your pulled pork a little dryer, add a smaller amount of sauce…we like ours saucy, so we use a lot of barbecue sauce.) Serve on hamburger buns, topped with slaw (if you like.) Serve with your favorite sides.
Enjoy!
~Melissa
You may enjoy these related posts: