Print Friendly Version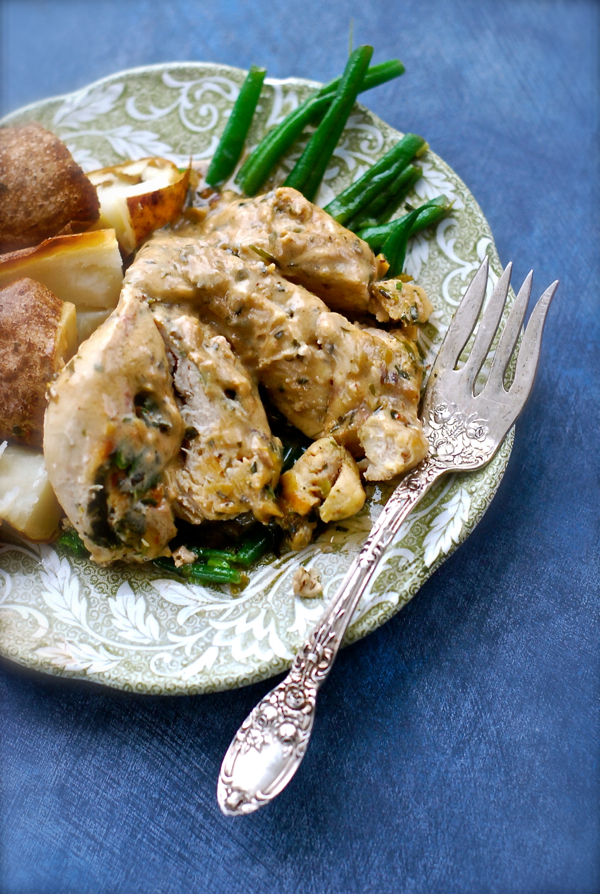 I called this "bistro" tarragon chicken, but it could be named "French Chicken" or "Provence Chicken" or something else fancy referring to France instead. I like how the word "bistro" makes me think of romantic little cafes in Paris where food and wine are elevated to the level of fine art.
The French seem to adore tarragon like Italians love basil. I wasn't really familiar with the herb until I tried my hubby's amazing Chicken Marsala for the first time (that was about 20 years ago!) I was pleasantly surprised by the subtle fragrance and sweetness it lends to sauces, soups and other delicacies. I especially like fresh, chopped tarragon sprinkled on this Plum Crostini with Honey Chevre, and as a delightful addition to blackberries and champagne. So much so, that now I grow it in my kitchen garden every year. It's fantastic in a classic balsamic vinaigrette, and this easy version of marsala as well. Do you have any favorite recipes that call for tarragon? Please comment below and share them if you do. It's always fun to try new stuff, and I love hearing what you're all cookin' up in your kitchens.
Here's an easy, creamy tarragon chicken you can make for a special company dinner or as a quick week-night meal for your family. It's wonderful with fresh, steamed green beans (haricots verts) and oven roasted potatoes with a little fresh lemon squeezed over everything.
2 Tablespoons olive oil
2 Tablespoons butter
6 pieces of chicken (your choice…skinless or skin-on are both good)
1/2 teaspoon sea salt
1/4 teaspoon white pepper
1/3 cup chopped shallots
1/2 cup dry white wine
2 Tablespoons chopped, fresh tarragon (or 3 teaspoons dry)
1/2 cup heavy cream
2 teaspoons cream sherry
1/2 teaspoon vinegar (apple cider or white balsamic)
Heat the olive oil and butter in a large, heavy bottomed skillet over medium heat. When sizzling, add the chicken portions seasoned with salt and pepper (skin side down if using skin-on chicken.) Saute until golden brown (approximately 5 minutes.) Sprinkle with the shallots. Turn and saute until well browned on other side. Reduce heat to low. Add wine and sprinkle with half of the tarragon. Cover and cook for 20 minutes. Flip and cook, covered, just until the juices run completely clear and the meat is no longer pink (approximately 15 additional minutes.***) Remove cooked chicken to a platter and cover with heavy duty aluminum foil to keep warm. Stir the cream, sherry and vinegar together in a small bowl. Allow to sit for 3 minutes (the cream will thicken a bit.) Whisk the thickened cream mixture into the pan drippings, increase briefly to medium-high heat and cook until thickened (2 minutes.) Pour the cream sauce over the chicken, and sprinkle with the rest of the tarragon.
***Note: all cooking times will be a bit less when making this recipe with boneless, skinless chicken breasts.
Enjoy!
~Melissa
You may enjoy these related posts: