Print Friendly Version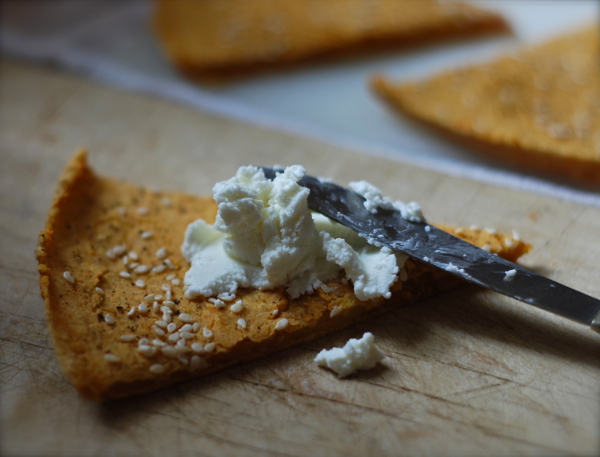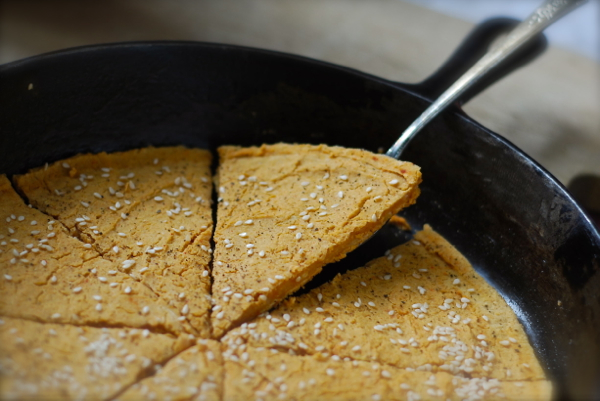 Here's a delicious, gluten free snack that I invented after finding several recipes online that called for garbanzo bean flour. Well, I didn't have that, but I did have a can of the beans, so I improvised. This is incredibly easy, healthy and fun to make. I was looking for something I could slather goat cheese on and enjoy with a bowl of soup and this totally fits the bill. If you leave out the smoked paprika and onion powder, and substitute 1/2 teaspoon each of cinnamon and nutmeg, you'll have a vehicle for jam, peanut butter, or a dab of lemon curd! YUM! Enjoy!
~ preheat oven to 375 degrees F. ~
1 can chickpeas (garbanzo beans)
1/4 cup water
1/2 cup all purpose gluten free flour (I use Bob's Red Mill)
1 teaspoon onion powder
1 teaspoon smoked paprika
1/2 teaspoon sea salt
Drain and rinse the chickpeas very well. Place them, along with all the other ingredients, in the bowl of a blender and puree until smooth.
Butter a 10 inch, cast iron skillet. Spread the chickpea mixture in the bottom in an even layer. Bake in preheated oven for about 30 minutes. Remove from oven and allow to sit for 5 minutes before removing to a cutting board and slicing it into wedges.
This is definitely best fresh, so try to only prepare what your family will eat the same day. I had some the day after it was made and it was okay, but had gotten a bit dry.
As soon as the flatbread completely cools, place it in an airtight container and keep it in the fridge. Warm it up in the microwave a bit and spread a little butter on top when eating the leftovers.
XO,
~Melissa
You may enjoy these related posts: