Print Friendly Version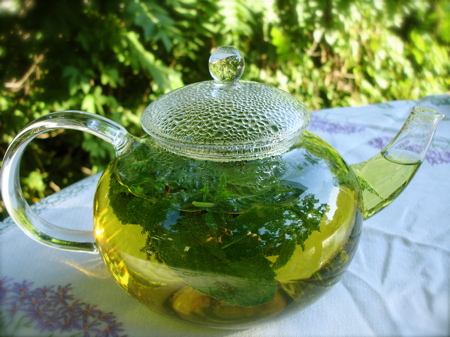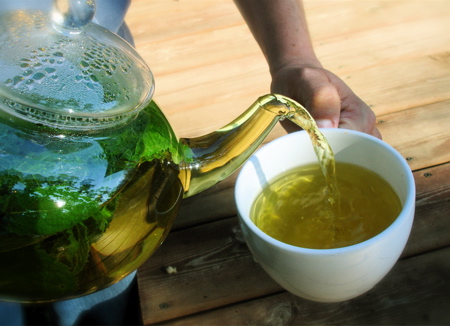 ~fresh herb tea~
"Teaism is a cult founded on the adoration of the beautiful among the sordid facts of everyday existence. It inculcates purity and harmony, the mystery of mutual charity, the romanticism of the social order." ~Okakura Kakuzu, 1906
We have a ton of fresh herbs growing in the container gardens out back on our deck. I'm still wondering how we're going to possibly use all of them! So far it's been wonderful to add them to scented spa water, salads, pizza and spaghetti sauce, savory shortbread, montrachet, pesto, Chermoula, and meat marinades. I made a loaf of Twisted Herb Bread I even baked some rose geranium into a cake!
While looking for new ideas, I was pleasantly inspired to see a quick, easy way to make fresh herb tea while perusing the archives of Martha Stewart's site. Read the original article HERE. I poured boiling, purified water over a cup of washed, pesticide-free peppermint leaves and let it steep in my clear teapot for 5 minutes, and then through a strainer into a big mug. Voila! Fresh herb tea! I'm thinking about making a pot using my chocolate mint with a little orange peel…and maybe another using lavender and lemongrass! The possibilities are endless.
Enjoy!
Happy Teatime Tuesday!
xoxo,
~Melissa
You may enjoy these related posts: