Print Friendly Version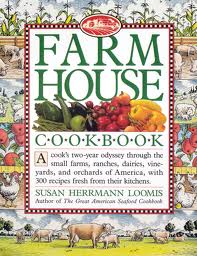 ~ sausages with onions, potatoes & apple dumplings ~
I know what you're thinking. "That sounds like a dish for autumn…not for spring!" Well, that's what I thought when I saw the recipe. But then I noticed the bratwurst (definitely a summery kind of meat)…and tons of fresh herbs! Not that you can't get fresh herbs at most grocery stores all year long…but, there's just something cool about being able to step out into your garden and pluck them yourself, and this calls for a lot of them.
So, save this recipe for a rainy day if it sounds to "stewy" for you to make when the sun is shining. I found the idea for this on page 120 in one of the best cookbooks around, "The Farmhouse Cookbook" by Susan Herrmann Loomis. I changed it up a bit, but the idea is still the same.
4 or 5 bratwurst links, cut into one inch pieces
2 small Vidalia onions, peeled and thinly sliced
6 smallish red potatoes (to equal about a pound) cut into 1/4-inch-thick slices
1 cup Vouvray white wine
2 cups beef broth
1 Tablespoon fresh sage leaves, chopped fine
2 Tablespoons fresh thyme leaves (I used lemon thyme and it was awesome!)
1 bay leaf
1/4 cup fresh parsley, coarsely chopped
3 allspice berries, or 1/2 teaspoon dried allspice
salt and freshly ground black pepper
2 Tablespoons freshly squeezed lemon juice,
1 large Granny Smith apple, unpeeled and coarse chopped
3/4 cup all-purpose flour
1/3 cup cake flour
2 teaspoons baking powder
1/4 teaspoon baking soda
1 large egg, beaten
2 Tablespoons butter, melted
1/3 cup buttermilk
additional parsley sprigs and/or sage leaves for garnish
Brown brats in a large, heavy Dutch oven over medium-high heat for about 5 minutes. Turn them frequently until they're browned. Remove the bratwurst pieces to a plate. Add the onions to the pot. Reduce heat to medium and cook for about 3 minutes or until the onions are just starting to become translucent. Stir in the potatoes, the wine, one cup of the broth, the herbs and the allspice. Bring mixture to a slow boil and stir, scraping up all the brown bits from the bottom of the pot. Add bratwurst and season with salt and pepper. Cover and cook at a gentle boil until potatoes are tender, about 25 minutes. Add the remaining cup of broth as needed to keep the ingredients just submerged in liquid.
While the potato mixture is cooking, fill a small bowl with water and add the apple chunks to it along with the 2 Tablepoons fresh lemon juice.
To make the dumplings: Combine flours, baking powder, baking soda and salt in a mixing bowl. Make a well in the center. Add the egg, melted butter and buttermilk. Mix the wet ingredients together, then incorporate the wet and dry ingredients to create a soft dough. Drain apple chunks. Fold half of the drained apple chunks into the dough so the pieces are evenly distributed.
When the potatoes are nearly cooked, add the rest of the apple chunks to the pot. Adjust seasonings as needed. Bring to a low boil, and drop the dumpling batter in six equal spoonfuls on top of the mixture. Cover and cook until dumplings are risen and firm to the touch (12-15 minutes…watch closely so the stew doesn't stick to the bottom of the pan.) Serve immediately, garnished with fresh herbs.
Enjoy!
~Melissa
You may enjoy these related posts: