Print Friendly Version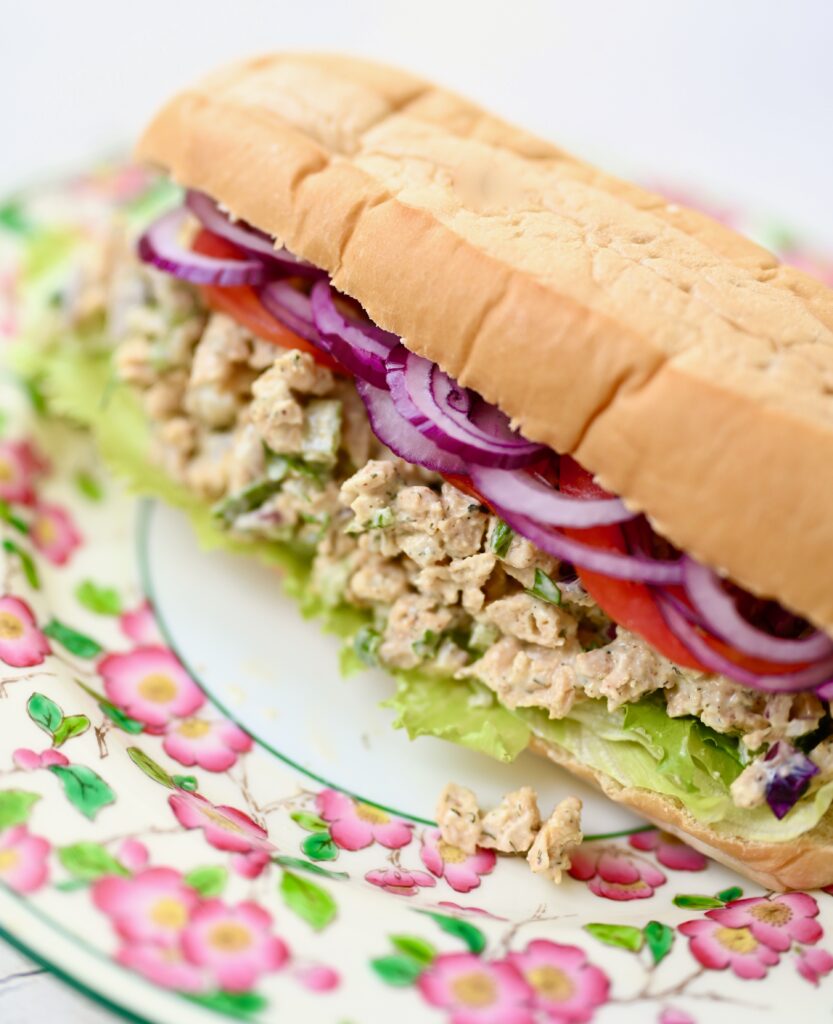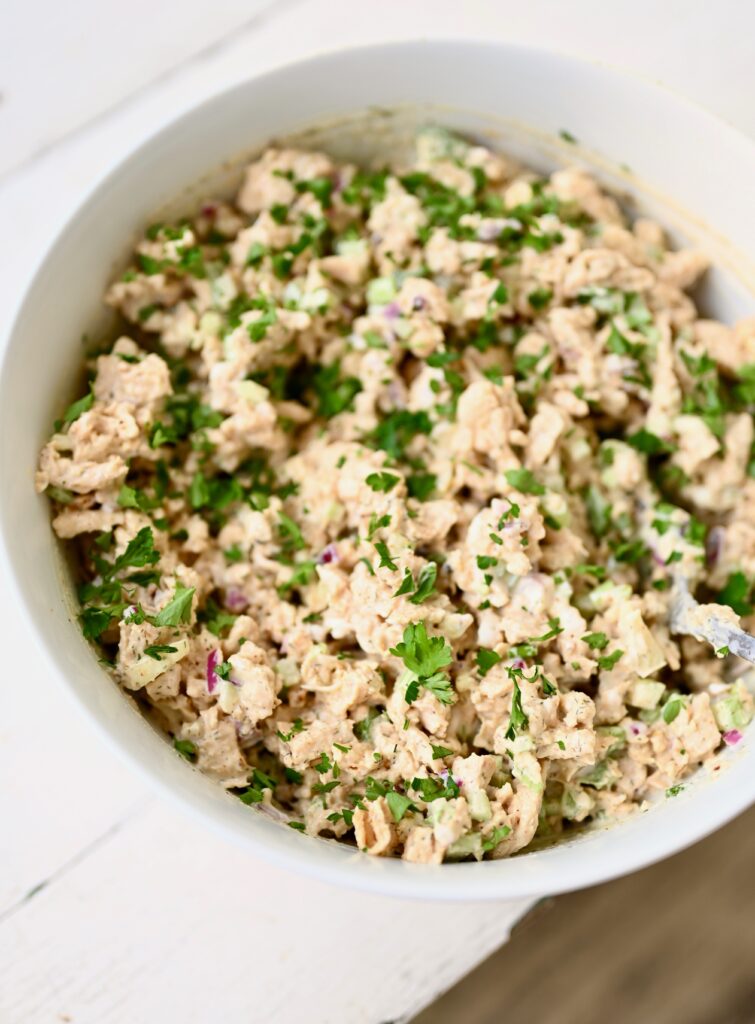 One of my favorite things to eat, prior to going vegan, was chicken salad. I was in love with the stuff. Especially for a summertime lunch. Nothing better!
Well, after going vegan I knew I had to find a suitable substitute. I tried chickpea salad which is super delicious, but nothing at all like chicken salad. I made a lot of my favorite vegan egg salad, which is also yummy, but obviously not a substitute for chicken salad. Unfortunately I was kind of afraid of using soy curls. They seemed a little weird. I had no idea how simple they are to prepare and was oblivious to their wonderful texture (a close chicken replica)… and so versatile! I knew the first time I tried them that I had hit the jackpot. I made BBQ "chicken," buffalo "chicken," and vegan Salisbury "steak" using these amazing soy curls!
So, without further ado, I give you my new favorite "chicken" salad. So delicious, chicken free, and most importantly, cruelty free. I hope you love it as much as I do! I only wish I'd tried them sooner.
This vegan chicken salad is amazing in lettuce wraps, tortilla wraps, made into little tea sandwiches, served in melon bowls, and even combined with a little mango chutney and served on zucchini bread. Oh my YUM!
Here we go…
1 and 1/2 cups dry soy curls
2 cups vegan "chicken" broth or vegetable broth
3/4 cup finely chopped celery
1/4 cup finely chopped green onion
1/2 cup vegan mayonnaise (or more, to taste) I use Vegenaise
1 Tablespoon grainy Dijon mustard
1 teaspoon onion powder
1 teaspoon garlic powder
1/4 teaspoon poultry seasoning (yes! It's vegan!)
1 Tablespoon sweet pickle relish or dill pickle relish (whatever you like)
sea salt, to taste
freshly ground black pepper, to taste
chopped fresh parsley as a garnish
Bring broth to boil. Add the dry soy curls. Remove from heat and allow curls to soak for 15 minutes. Drain well (save the broth for soup if you like). Once soy curls are cool enough to handle, squeeze dry. Coarsely chop. Place in a large mixing bowl along with the other ingredients. Stir to combine. Taste and adjust seasonings if needed. Cover and refrigerate until ready to use. I always let it chill for at least an hour prior to serving.
Enjoy!
~Melissa
You may enjoy these related posts: