Print Friendly Version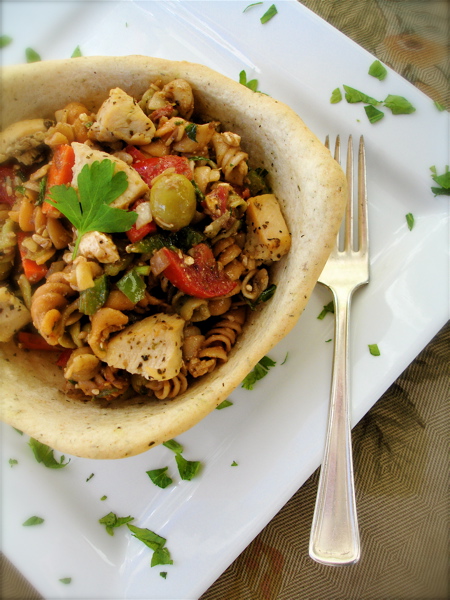 ~ rainbow rotini salad ~
This is one of those meals that can be tweaked according to what you have in your fridge. No cucumber? Substitite zucchini. No green pepper? Substitute celery. No chicken? Substitute a can of well drained albacore tuna. The versatility of this salad is one of the reasons I love it so much. It's fun to play with the flavors and create something a little different every time!
This time I used…
In a big salad bowl, combine:
1 lb rainbow rotini cooked according to package directions and drained
1 cup crumbled feta
1 cucumber, peeled, seeded and chopped
2 cups balsamic vinaigrette
3 ripe Roma tomatoes, chopped
1/2 small, yellow onion, chopped fine
2 garlic cloves, minced
1 cup green olives
2 large carrots, chopped
1/2 green bell pepper, chopped
1/2 yellow bell pepper, chopped
1/2 red bell pepper, chopped
1 lb. cooked boneless skinless chicken breasts, completely cooled and cut into bite size chunks
salt
pepper
Italian seasoning
freshly grated Parmesan cheese
fresh parsley, chopped
Mix all well. Add a little more dressing or olive oil if needed. Adjust seasonings. I served this in bread bowls I made using THIS RECIPE. These bowls are easier to make than my herbed potato bread bowls, but they come out more like hearty cracker bowls than soft bread, which I think was the perfect accompaniment to this particular salad.
Enjoy!
~Melissa
You may enjoy these related posts: