Print Friendly Version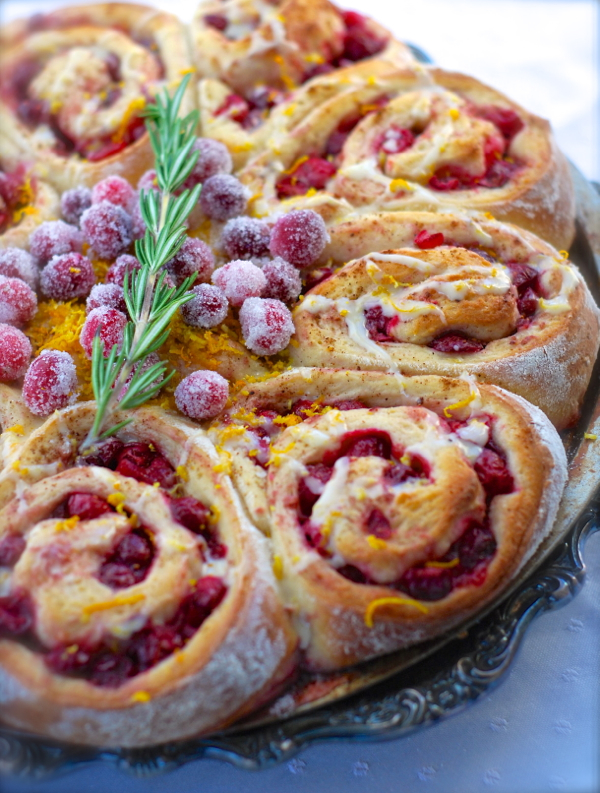 A lazy, lazy day here at our house. After the flurry of decorating and cooking yesterday, I'm taking a break. Lots of tea sipping and reading under a blanket while a fire dances in the fireplace. Tonight's dinner… leftover turkey soup with rice, crock pot roast, a simple baby spinach salad… and if anyone wants dessert we'll have pancakes. I know, it's hodge podge, but it's cozy and easy and I like the fact that nothing goes to waste.
Here's a wonderfully colorful, pretty and festive coffee cake that would be delicious for a Christmas brunch, afternoon tea, or dessert. It's chock full of fresh cranberries and everyone here just loves it.
for the coffee cake:
2 and 1/2 cups all-purpose flour
1/4 cup sugar
1 teaspoon salt
1 package active dry yeast
2/3 cup whole milk
2 Tablespoons real butter
1 large egg
1 Tablespoon orange zest
for the filling:
3 Tablespoons melted butter
2 cups fresh cranberries, halved
1/3 cup raspberry, cherry or strawberry jam
1/3 cup sugar
juice of one orange
for the icing/garnish:
1 cup powdered sugar
6 teaspoons Captain Morgan Original Spiced Rum (or milk)
zest of one orange, divided
a fresh, green herb sprig
In a large bowl, combine one cup of the flour, 1/4 cup sugar, salt and yeast. Mix well. In a saucepan, heat the 2/3 cup whole milk and butter until warm (120 degrees F.) Add milk mixture, egg, and the orange zest to the flour mixture. Blend on low until moistened, and then beat for 3 minutes on medium speed. Fold the rest of the flour by hand.
On a floured surface, knead until dough is smooth and elastic (about 5 minutes.) Place dough in a buttered bowl, cover with buttered plastic wrap and allow to rise for 60 to 90 minutes, or until doubled in size.
Grease a large round cookie sheet or pizza pan. Punch down dough several times to remove all air bubbles. On a lightly floured surface, roll out dough into a 16 x 12-inch rectangle. Brush with the melted butter. In a small bowl, combine the rest of the filling ingredients until evenly combined, and spread this mixture evenly over the dough.
Starting on a 12-inch side, roll up the dough as tightly as possible. Press edges together to seal so it doesn't pop open. Cut into 12 slices, saving the 2 end pieces for the center of the "poinsettia." Arrange the remaining slices in a circle on the greased pan, leaving a 2 to 3 inch space for the center. Form the end pieces into little dough balls and place the balls in the center. Cover cake with buttered plastic wrap, set it in a warm place, and allow to rise and additional 40 minutes.
Heat oven to 350 degrees F. Uncover dough after it has risen the designated amount of time. Bake for 20 to 25 minutes or until golden brown. Allow cake to completely cool before glazing and garnishing.
In a small bowl, combine the powdered sugar, spiced rum, and half of the orange zest. Transfer to a squirt bottle, and drizzle all over completely cooled cake. Place some frosted cranberries in the center, sprinkle some extra orange zest over the whole cake, and garnish with a pretty green herb sprig for a lovely contrast to the red cranberries.
Happy Holidays!
~Melissa
You may enjoy these related posts: