Print Friendly Version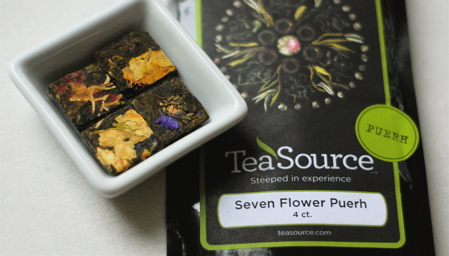 ~ seven flower puerh ~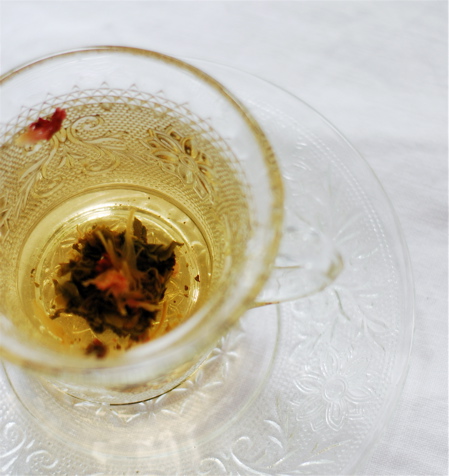 "When you buy this puerh tea, you receive four different puerh squares (approximately 3-5 grams each-perfect for an individual cup or small pot).  While the same high grade puerh (shu or cooked puerh) is used throughout; each square has different additional ingredients: either jasmine, rose, carnation, naturtium (tropaeolum), forget-me-not (myosotis), or chrysanthemum flowers.    Which leads to this tea having a cornucopia of aromas and flavors: floral, sweet, light, et al. A delight and surprise in every cup." ~ description from the Tea Source website
my tasting notes:
I was intrigued by this tea the moment I saw it. The pretty floral squares are what drew me in, and I have to say, now that I've tried it, I'm hooked. The flavors of each little brick are so varied I feel like every time I sample one I'm dipping into a box of chocolates and getting a wonderful, unique surprise with every sip. The forget-me-not and rose squares are my favorites. Watching the leaves and petals unfurl in the cup is another wonderful part of this sensory tea experience. I brew mine in clear, depression glass teacups. This tea would be a beautiful addition to a garden tea party, and a wonderful conversation starter!
Happy TeaTime Tuesday!
What's in your teacup?
~Melissa
You may enjoy these related posts: