Print Friendly Version
Art is a funny subject. I love talking to people who insist they don't have a creative bone in their body. After awhile they will reveal something amazing about themselves like their ability to cook a gourmet meal, their beautiful poetry, their family's history archived in a scrapbook where they spent hours pouring over the pages–choosing the perfect colors, textures and embellishments so future generations can almost step into the pages and feel the experience that has been recorded between these two dimensional pages for themselves. I don't care what anyone says. We're all artists because we're all creative in some way. It comes with being human. I love what Elizabeth Gilbert, one of my favorite writers, has to say about this. WATCH THIS.
Just as artists come in many forms, they also use many different tools to express themselves. These tools are called 'mediums.' I'd like to share my favorite mediums with you. I sincerely hope this post inspires you to take a look around your world with new eyes. Maybe they'll be opened for the first time and you will be prompted to create the art that the world is waiting for! At the risk of sounding hokey, there actually IS only one you. If you don't create the art you were meant to create the world will miss it. I really believe this.
~My Favorite Creative Mediums~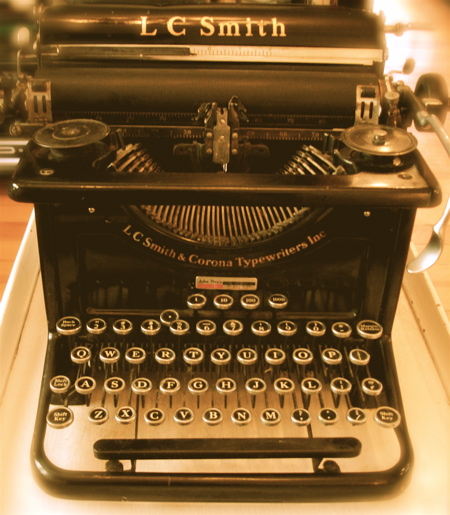 photographs by Melissa Placzek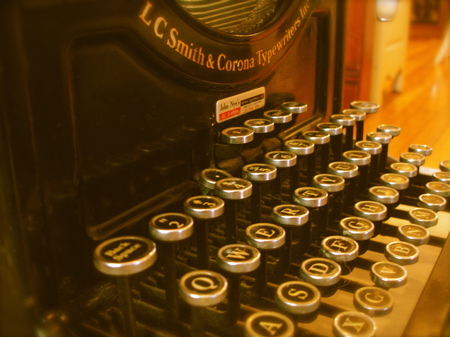 WORDS
There is something soothing about opening a brand new notebook. Lately I like to imagine the stack of notebooks that contain my novel as portals. A place where, by simply applying ink to paper, extraordinary things take place. Birth. Life. Death. A place where I'm not only free to explore new worlds…but worlds that I create.
I can't believe I've been working on my novel for nearly two years. I remember the day I decided to take a little nap on the couch. It was early afternoon and the cat decided to join me. I looked at the clock and then drifted off… only 15 minutes later I had the outline for 3 books in my head. I woke up with the characters' voices still in my ears. Before this incident when I had heard of this happening to other writers I rolled my eyes, and thought "Yeah, right!" And then it happened to me. Since then the characters in my story keep "bugging" me! Even on the days when I have to say "NOT NOW! I'M BUSY!" I do secretly love it 😉
*Note: Did you notice the cool pictures of the typewriter? It's one of my thrift store finds! All it needs is typewriter tape and we're in business! YAY!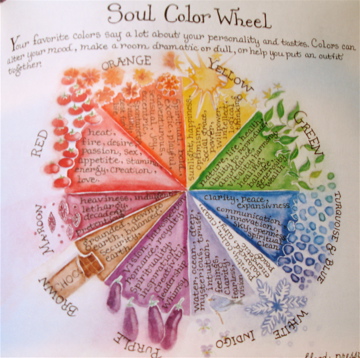 Soul Color Wheel from my book "Welcome Home"
COLOR
I know. Color? Well, yes. Color is a pretty broad medium, but it's absolutely essential to my creative process. Especially this time of year. I'm one of those people who suffer from Seasonal Affective Disorder. I should wear one of those mood lamps with the special "happy light" as a HAT. Instead I rely on color to get me through until spring. Here's how…
~Paint~
Most of you already know that I've authored and illustrated two books. I love watercolors! I have a sort of "secret" project I'm working on that I hope to reveal soon. There have been SO many changes taking place in my home studio…It's a work in progress, but I hope to share pictures with you soon!
Along with the novel, I've also been working on a book featuring tea. This book has caused me to make a list of watercolor paints, paper, brushes and Micron pens I have to stock up on the next time I visit Blick.
~Yarn and Fabric~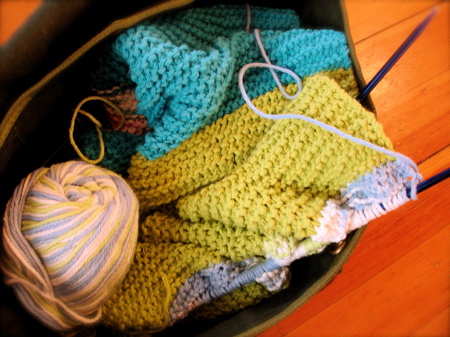 I've been knitting and crocheting for years. I find shopping for yarn to be therapeutic. All of the colors and textures to choose from! I would rather go yarn shopping than to the spa!
I've recently decided to revisit the art of quilting. I have a few friends (Maria, Sandy and Clare) who are fabric goddesses. They've inspired me to unearth the unfinished quilts from the back of my craft closet. It's been so much fun going over to my friend's studio and talking fabric and technique. I love vintage fabrics and have an extensive collection of linens, tablecloths, napkins, runners and tea towels. The art of quilting is helping me appreciate my passion for fabric in a whole new way.
FOOD
I bet you already knew I was going to say something about food. 🙂 I LOVE to cook. I could elaborate in this entry, but I've already talked about cooking so much… you can read all about it HERE…HERE…HERE…HERE and HERE. I could keep going, but you get the idea. Creative cooking is one of my all time favorite simple pleasures…and food is one of my favorite creative mediums.
What is your favorite creative medium?
~Melissa
You may enjoy these related posts: