Print Friendly Version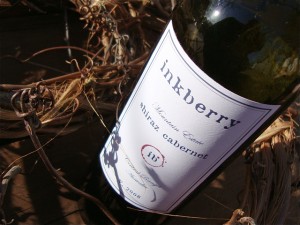 "We hear of the conversion of water into wine at the marriage in Cana as of a miracle.  But this conversion is, through the goodness of God, made every day before our eyes.  Behold the rain which descends from heaven upon our vineyards, and which incorporates itself with the grapes, to be changed into wine;  a constant proof that God loves us, and loves to see us happy. "
~ Benjamin Franklin

What a beautiful day in the Mississippi river valley! We started the day with a morning hike on the gorgeous Cannon Valley Trail . After lunch we decided to have a little bonfire in our back yard.
While sipping glasses of Inkberry Shiraz-Cabernet we noticed the many grapevines taking over our still dormant rose bushes, trees, and garage. I asked Gracie to help me make grapevine wreaths, something I hadn't done in years. This got me thinking about an article I had read some time ago about the nuances that grapevines can impart to grilled fare. A lightbulb lit over my head. Wouldn't it be nice to make up little baskets of grapevine wreaths for friends who frequently grill? A fun addition to a Christmas or birthday gift basket, or even a nice hostess gift when you're invited to a summer party. You could add a pretty tag explaining their use and even describe the meats that would benefit most from the addition of grapevines.
GRAPEVINES – Tart. Provides a lot of smoke. Rich and fruity. Good with poultry, red meats, game and lamb.
Wine Tasting Notes: Inkberry Shiraz-Cabernet 2008
The ripe grapes take on notes of fresh cracked black peppercorn, leahter, black cherries, and plum on the palate. Voluptuous buttery vanilla mouthfeel.
You may enjoy these related posts: