Print Friendly Version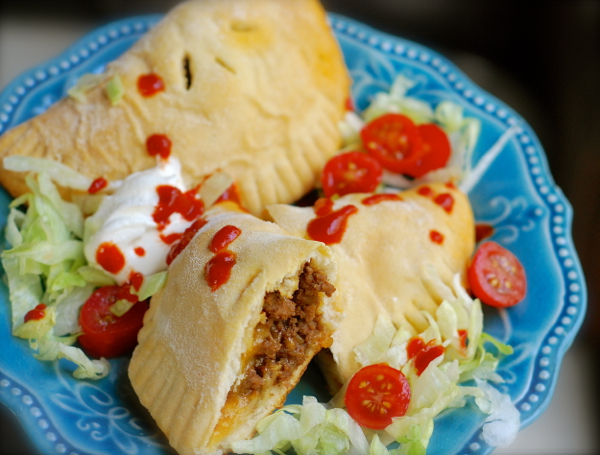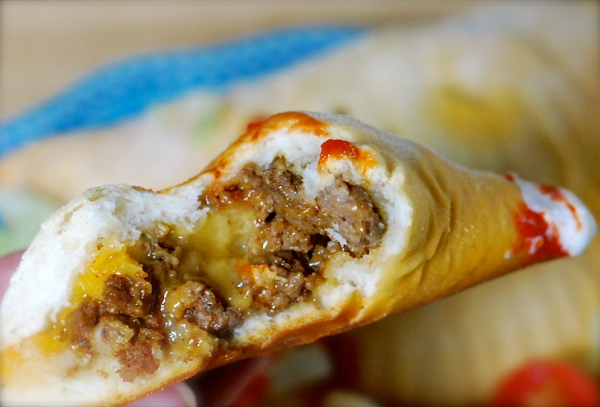 We love these easy, delicious, super cheesy, taco hot pockets! We make them for lunches, dinners, snacks, and party appetizers. I thought I'd post my easy recipe in time for you to make these for your Cinco de Mayo celebration. They go together fast, and only take 16 minutes to bake!
~ serves 4 people (2 hot pockets each) ~
~ preheat oven to 350 degrees F. ~
1 lb. extra lean ground beef
1/4 cup chopped onion, optional
1 packet McCormick original taco seasoning
1/4 cup water
1 tube Pillsbury Grands biscuits (8 biscuits)
8 oz. shredded Mexican blend cheese OR sharp cheddar cheese
Brown ground beef in a large, heavy skillet. Add onion, if using. Drain excess grease if needed. Add taco seasoning packet and water. Cook over medium heat until liquid is almost completely absorbed. Cool slightly before filling hot pockets.
Remove biscuits from packaging. Roll out flat on a lightly floured surface. Fill each with 1/4 cup of the taco meat and 2 Tablespoons of shredded cheese. Fold over and crimp edges so each pocket is tightly sealed. Place all 8 pockets on a large, ungreased baking sheet, 1 inch apart. Cut three little slits in the top of each so hot air can escape as the hot pockets bake. Bake in preheated oven for 14 to 16 minutes or until golden brown on bottoms and lightly golden around edges and on tops of the pockets.
Serve immediately with your favorite taco toppings. We like: shredded lettuce, tomatoes, sour cream, and hot sauce.
Enjoy!
~Melissa
You may enjoy these related posts: