Print Friendly Version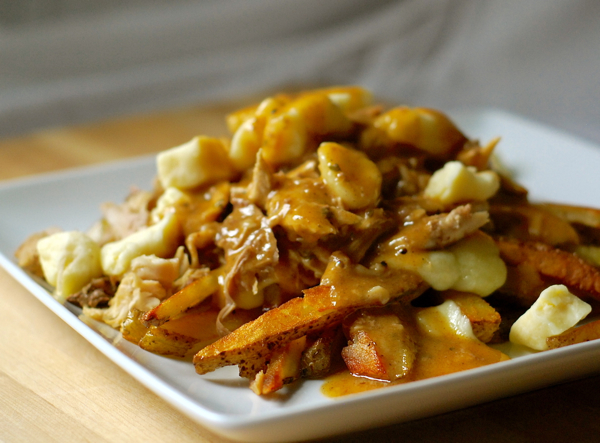 Poutine n. ~ A French-Canadian dish that originated in the province of Quebec. It's traditionally composed of French fries, and fresh cheese curds, covered with rich, brown gravy.
The first time I heard about poutine I was standing in my kitchen listening to talk radio. One of my favorite radio show hosts, Stephanie March, was describing it and I just knew it was something I needed to try. Crispy French fries, melty cheese curds, and brown gravy? I'm there! I did a little research online, and talked to a couple Canadian friends, and here's what I found out.
Poutine may seem a bit exotic to those who've never tried it, but really it's just tasty, Canadian pub fare. It's popular in potato shacks around Canada (cabanes a patates,) and in hockey arenas! There's a lot of controversy surrounding the exact origin of poutine, as there are about half a dozen restaurants who claim it was their invention.
There are many variations on the simple "fries, cheese curd, gravy" theme. Some people add Italian sausage, some add bacon and maple syrup, others top theirs with ground beef and onions. Then there are people like me who enjoy poutine with shredded turkey. This particular type is called Poutine Galvaude. Just in case you were wondering.
I like it this way because it's a delicious, unique way to enjoy…. you guessed it… Thanksgiving leftovers!
You'll need:
hot, crispy French fries (here's the oven-baked version we love)
fresh cheese curds (We use Ellsworth Creamery plain cheese curds)
hot, shredded turkey (I've used pulled pork before too. Also delicious!)
hot, turkey gravy (here's a fast, delicious recipe!)
Pile hot French fries on an oven-safe plate. Top with some cheese curds. Place in a 425 degree F. oven for 5 minutes, or until the curds have begun to melt. Remove from oven. Top with the hot, shredded turkey, more cheese curds, and hot turkey gravy. Add freshly ground black pepper, to taste.
Enjoy!
~Melissa
You may enjoy these related posts: