Print Friendly Version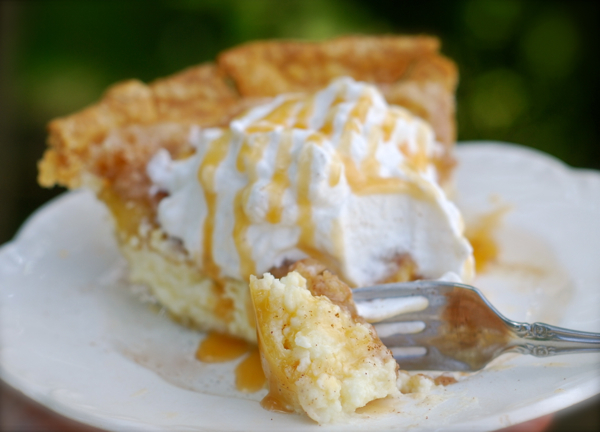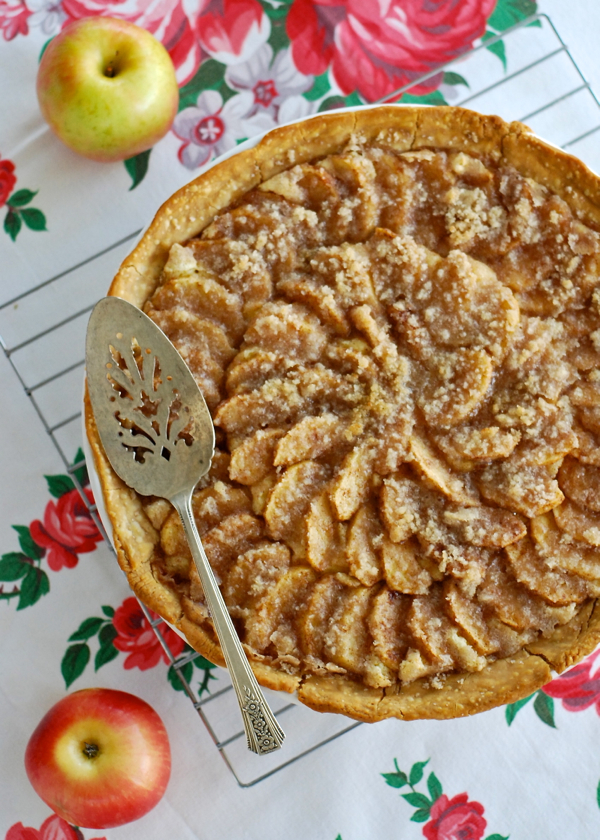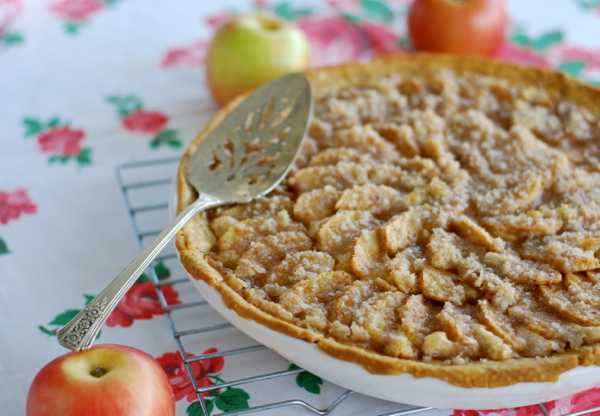 So it had been a few days since I'd made dessert and Jeff and Grace were sort of hinting that I make something. I decided to reach back into my old recipe collection and make this tried and true favorite. It's sort of a cross between apple strudel, cheesecake, and apple pie. Thus, the name. It's actually very simple to prepare, especially if you get a ready-made, deep dish pie crust. Pillsbury makes a great one. If you don't like the look of the aluminum pan that they come in, you can gently invert the frozen crust onto your hand and then carefully place it in a prettier pie plate. If you want to make everything from scratch, you can use my recipe for no-fail cream cheese pie crust. Just click on THIS LINK.
Today is the first day of autumn, and it's the perfect time of year to enjoy this luscious, apple-y, creamy, cheesecake pie. Serve it completely chilled. I can't stress this enough. It's just not one of those pies that's good when it's warm. Trust me.
We love it topped with cinnamon ice cream or sweetened, vanilla whipped cream. A drizzle of salted butter caramel sauce or milk jam couldn't hurt either.
Isn't this pie just the prettiest?
~ preheat oven to 450 degrees F. ~
16 oz. full fat cream cheese, softened to room temperature
3/4 cup sugar, divided
2 large eggs, lightly beaten
2 teaspoons pure vanilla extract
5 medium, tart apples, peeled and sliced thin
1 teaspoon cinnamon
1 unbaked, 10 inch, deep dish pie shell
Blend cream cheese, 1/2 cup of the sugar, eggs, and vanilla in the bowl of a counter top mixer using the whisk attachment. Mix until smooth. Pour into unbaked pie shell.
Toss apple slices with remaining sugar and cinnamon until well coated. Arrange in a spiral over the top of the pie filling, overlapping slices as you go so the filling is completely covered.
for the topping:
5 Tablespoons sugar
2 Tablespoons all purpose flour
2 Tablespoons butter
1 teaspoon cinnamon
Blend until coarse crumbs form, and sprinkle evenly over the pie. Bake at 450 degrees F. for 10 minutes. Reduce heat to 350 degrees F. and bake an additional 25 to 30 minutes, or until pie barely jiggles and is completely set.
Once done, remove from oven. Cool. Place in refrigerator and chill completely, 4 to 6 hours, before slicing and serving.
Enjoy!
~Melissa
You may enjoy these related posts: