Print Friendly Version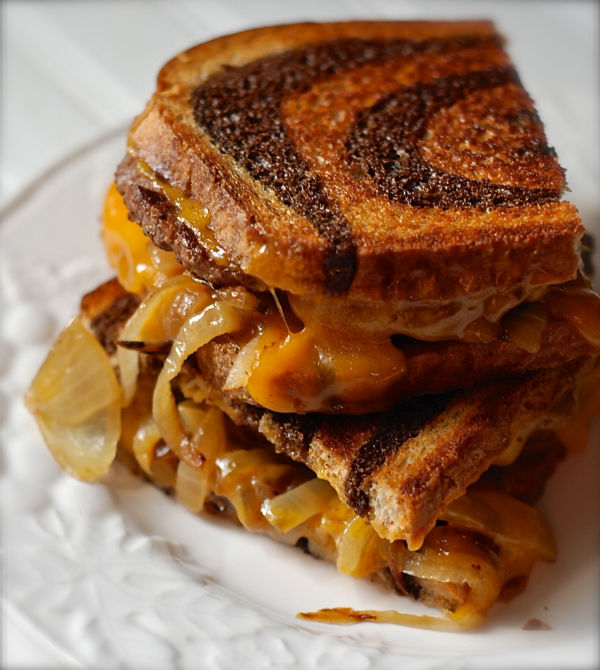 Gracie is home from school again today due to the polar vortex. I think it's funny that what was once called a "cold snap" and shrugged off as hum drum, here-we-go-again-weather (here in Minnesota, anyway) has been turned into a scary event by the media. Silliness, I say! We got the recorded phone call from her school last night announcing the closing and this time I just rolled my eyes.
So, as you may have already guessed, we've been cooking and baking and watching movies. Grace has been drawing and practicing guitar, and I've been crocheting. All is right with the world.
A couple days ago I made these [amazing] patty melts. We've been eating healthy around here, but I was seriously craving gobs of melty cheese and beef patties between buttery, grilled toast. This is that. And it's piled high with caramelized onions. We dip them in so much ketchup they're barely recognizable as sandwiches anymore, but that is just personal preference. You can eat them plain or top them with whatever you like. French fries on the side- optional.
Serves 6 hungry people
2 to 3 Tablespoons butter for caramelizing onions
additional butter for toasting sandwiches
2 large onions, sliced and separated into rings
2 lb. ground chuck or lean ground beef
1 teaspoon sea salt
2 teaspoons freshly ground black pepper
2 teaspoons smoked paprika
2 Tablespoons Worcestershire sauce (or Ponzu)
thinly sliced, extra sharp cheddar cheese (or your favorite melting cheese)
12 slices marble rye bread
Melt 2 to 3 Tablespoons butter in a large, heavy-bottomed skillet. Turn heat to medium low. Once butter has melted, add the sliced onions. Reduce heat to low, and stir to coat the onion rings with the butter. Allow to cook for 30 minutes, stirring occasionally, until the onions are golden and soft. Remove from heat and cover to keep warm. Set aside.
While the onions are caramelizing: In a large bowl, combine the beef, salt, pepper, smoked paprika and Worcestershire. Mix well, using your hands, until all ingredients are evenly incorporated. Form into 6 patties.
In a separate skillet, pan fry your patties until they're done to your liking. Slice them in half, horizontally so you have two thin patties that will cover your rye bread.
Assmeble your sandwiches: For each sandwich, butter two slices of marble rye. Start skillet heating on low. Place the butter side of one slice of rye down in skillet. Top with a thin slice of cheddar (that covers the whole slice of bread) top cheese with the two thin half-patties, then a generous portion of the caramelized onions, another slice of cheddar, and top with the other buttered slice of rye (butter side up.) Cook on moderately low heat until the bottom cheese begins to melt and the bottom slice of bread is a deep golden brown. Carefully flip sandwich and cook until all cheese is melty and the sandwich is golden on both sides. Cut in half and serve.
Enjoy!
~Melissa
You may enjoy these related posts: