Print Friendly Version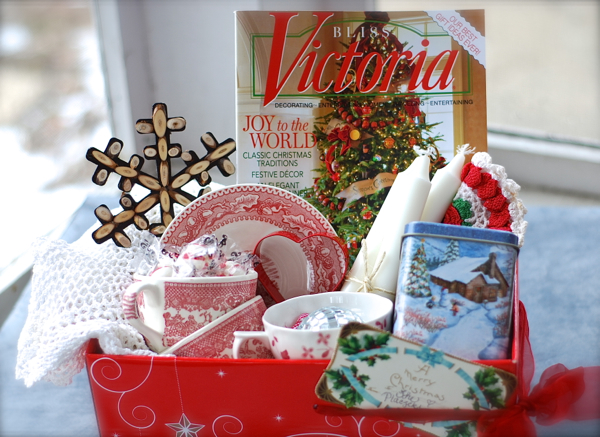 Hello friends! I'm busy working in my studio today…and putting together a "Tea for Two" gift! We gave tea gifts to all of our friends a few years ago, and it's such a fun way to share the love of tea. You can buy everything new, or you can stash little antique shop/tag sale/ thrift store finds away all year and then have fun assembling vintage gift baskets for friends and family. Add homemade baked goodies, or whatever else you like! You can tailor this idea to work for one person, or a whole family. Add cocoa for the kids…and maybe a family movie… or for your single friends…maybe a bottle of lovely Lollia bubble bath and a romance novel. The possibilities are endless.
This particular gift is in a recycled candy box we just received from The WA Placzeks (it was full of chocolate that was magically devoured in two days! Thanks Mike, Robin, Emily and Noah!) I placed 4 red and white  place mats in the bottom of the box, draped a hand crocheted lace tablecloth over one side and then added two red and white teacups & saucers, a red and white willow ware creamer and sugar bowl, a couple ornaments, soft peppermint candies, a vintage hot pot holder, a tin of Harney & Sons Holiday tea, a tin of Vanilla Dream Divinity Candy, 3 white stick candles tied with twine, and the Christmas issue of Victoria Magazine from this year. Next I'm going to wrap it with clear cellophane wrap and tie it with a big red & white gingham ribbon with a sprig of pine tucked behind it. I used a vintage Christmas card as a gift tag for a special flourish.
Merry Christmas!
Love,
Melissa
You may enjoy these related posts: