Print Friendly Version
I've had the same Braun electric juicer for the last 20 years and there have been times when I've only used it once or twice a month…other times when I was juicing a few times a day. This juicer just keeps going! I'm sure there are other fancier, more expensive models out there but for around $100 I think this little machine is a great value. When it does finally extract it's last cup, I'll be replacing it with the same exact kind.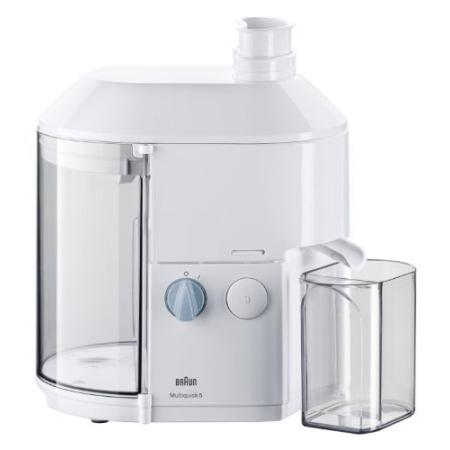 The Braun Deluxe Juice Extractor MP-80
(120 volts for USA use)
There is an endless variety of juices you can make with this nifty machine and I suggest looking up recipes online, or purchasing a book on juicing, for ideas. There are tons of juicing blogs out there. I like THIS ONE. Everything I learned about juicing I learned from the "Juice Man." Years ago my grandparents gave me his entire program on cassette tape. So much great information! Jeff and I aren't as serious about juicing as the Juice Man. We have a few favorites that we keep coming back to. These recipes are so good for you and they taste great too! Juice the following fruits and vegetables according to the manufacturer's directions for your electric juicer. Wash organic fruits and vegetables before juicing. Enjoy!
~Pineapple Grapefruit Breakfast in a Cup~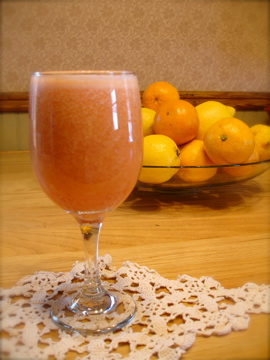 photographs by Melissa Placzek

This is a sweet, tart tropical smoothie!

serves 3
1 whole, fresh, organic pineapple peeled and cored
2 large, organic, ruby red grapefruit (peeled, leaving some pith on fruit)
Cut pineapple and grapefruit into pieces that will fit into the opening of the juicer.
*
~Fresh Orange Juice~
Not to be confused with the pale orange juice out of a carton…This is going to knock your socks off
serves 3
9 fresh, organic oranges
Peel oranges leaving some pith on fruit.
*
~Whole Lemonade~
serves 3-4
Slice 10 whole lemons, peel and all!
*
~Carrot Apple Parsley Juice~
serves 3
I know this sounds kind of strange, but trust me it's really good. A cup of this a day will keep the doctor away. I like to make this all winter long.
4 large, organic carrots, scrubbed clean but not peeled
3 organic apples (a tart variety ,like Haralson, is wonderful in this juice)
a handful of fresh organic parsley
Cut carrots and apples into pieces that will fit into your juicer. Add a handful of parsley.
*
~Green Apple Celery Juice ~
serves 3

This is a wonderful juice to make right before bedtime or if you need to relax. Along with these benefits celery also has a calming effect on your nervous system.
4 large organic green apples
8 ribs organic celery
~Melissa
You may enjoy these related posts: