Print Friendly Version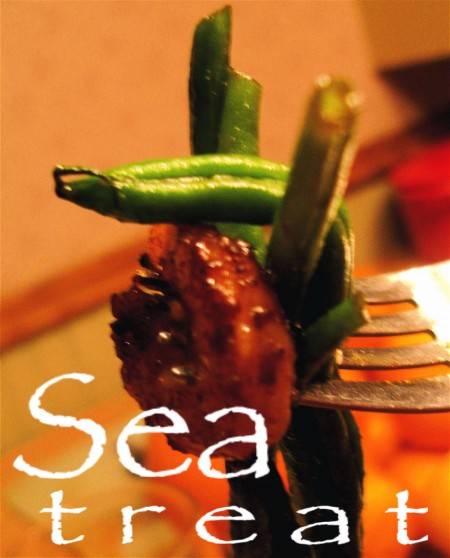 ~Sweet Honey-Ginger Shrimp~
We made this delicious little dish last night for a light dinner. It was so good! This would also make a great appetizer served tapas style!
2 Tablespoons honey
1 teaspoon fresh grated ginger
1 teaspoon powdered ginger
1 teaspoon red chile flakes
1 Tablespoon balsamic vinegar
1 clove minced garlic
1/2 teaspoon onion powder
salt and fresh ground pepper
2 Tablespoons olive oil
1 lb. medium or large shrimp, peeled (not pre-cooked)
In a large bowl, combine honey, ginger, chile flakes, balsamic vinegar, garlic and onion powder. Mix well. Add thawed or fresh shrimp. Toss to coat. Cover and allow to marinate for 1 to 6 hours.
Set a grill pan or skillet over high heat. Add the olive oil and shrimp. Cook for 2 minutes, then flip over. It should only take another minute for the shrimp to turn pink and be fully cooked. (Careful not to over-cook.) Salt and pepper to taste. Squeeze a little fresh lemon juice over the top, and serve with Szechuan Green Beans if you wish.
~Szechuan Green Beans~
1 pound Chinese longbeans or French green beans (haricorts verts)
1 tablespoon garlic, chopped
1 tablespoon fresh ginger, chopped
2 scallions, sliced
1/2 teaspoon chili paste or Sriracha
1 tablespoon dark soy sauce
1/2 teaspoon brown sugar
1 teaspoon toasted sesame oil
1/4 teaspoon salt, or to taste
2 tablespoons olive or peanut oil for stir-frying, as needed
Preparation:
Wash the longbeans, drain thoroughly, and trim the tops and bottoms. Cut the longbeans on the diagonal into slices approximately 2 inches long. Chop the garlic, ginger and white part of the scallions. Heat 1 tablespoon oil over medium heat. Add the longbeans and stir-fry until they start to shrivel and turn slightly brown (5 – 7 minutes). Remove beans and drain on paper towels.
Heat 1 tablespoon oil in the wok or skillet on high heat. Add the garlic, ginger and scallions. Stir-fry for a few seconds, then add the chili paste and stir-fry for a few more seconds until aromatic. Add the beans and the remaining ingredients. Mix together and serve.
Enjoy!
~Melissa
You may enjoy these related posts: