Print Friendly Version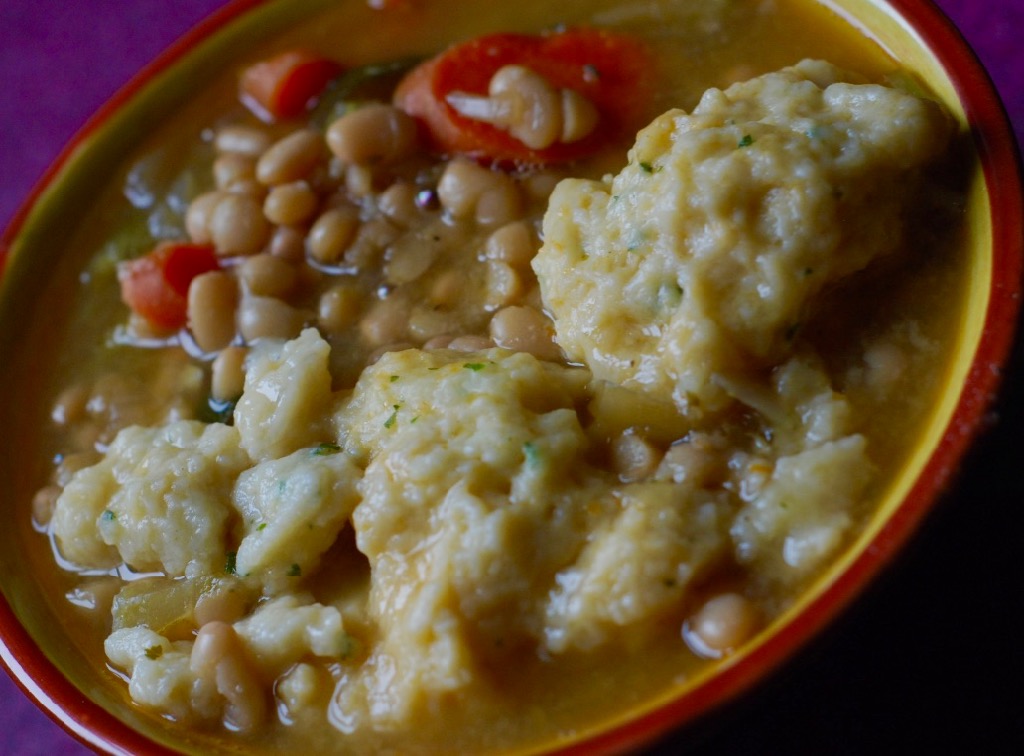 This hearty, delicious soup is so comforting and so easy to make! I throw everything in the Crock Pot and set it on low if I'm going to be out of the house. When I need it be done in 6 hours I set the slow cooker to the high setting. A half hour before we're ready to eat, I whip up a batch of my easy dumplings and just drop them into the boiling broth. Easy peasy and one of our favorite, healthy meals!
There is no need to soak navy beans over night. I know, I know… I was always under the impression that all dried beans needed to be soaked, but these delicate, small beans do not. Same goes for split peas. So if you never use dried beans because of the whole "I forgot to soak the damn things" BS, I'm here to tell you… You're free!
PS… You can substitute sweet potato, rutabaga, or parsnips for the white potatoes if you wish. Also, you could serve this with leftover, cooked gnocchi instead of the dumplings. It's great both ways.
for the navy bean soup:
1 lb. dried navy beans, rinsed
5 large carrots, (peeled if they're not organic) and sliced
1 large onion, chopped
3 large cloves garlic, minced
2 large potatoes (peeled if they're not organic) cubed into 1/2 inch cubes
2 ribs celery plus the leafy green tops, chopped
2 Tablespoons dried oregano + any of your other favorite spices
1 teaspoon smoked paprika
6 to 8 cups low sodium vegetable stock/broth
Dump it all in the Crock Pot. Add the liquid so all of the ingredients are submerged and the liquid comes within about an inch from the top of the pot. Stir. Cover and set on LOW for 8 to 10 hours, or HIGH for 6 hours. Soup is done when beans are buttery soft and tender. Salt and pepper to taste. Serve with or without the dumplings.
for the dumplings:
1 cup all purpose flour
2 teaspoons baking soda
1 teaspoon sugar
1 teaspoon sea salt
1 Tablespoon vegan butter, melted
1/2 cup unsweetened, unflavored plant milk (we use soy)
1 Tablespoon dried parsley
Mix all in a large mixing bowl, just until everything is moistened. Don't over mix. Drop by heaping Tablespoons into simmering broth. Cover and allow to cook for approximately 15 minutes without lifting the lid. Dumplings are done when they're set all the way through. Serve.
Enjoy!
~Melissa
You may enjoy these related posts: