Print Friendly Version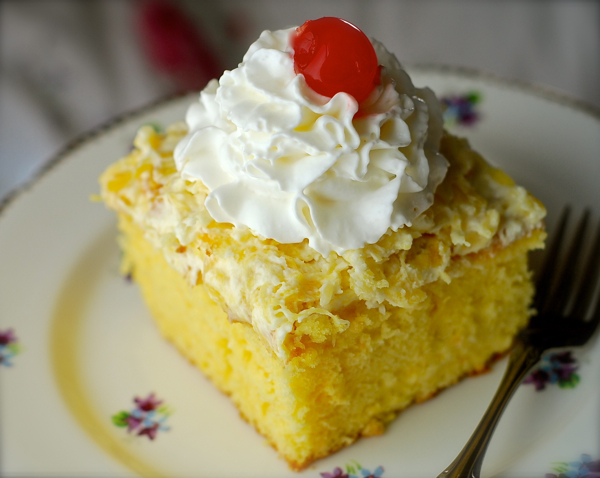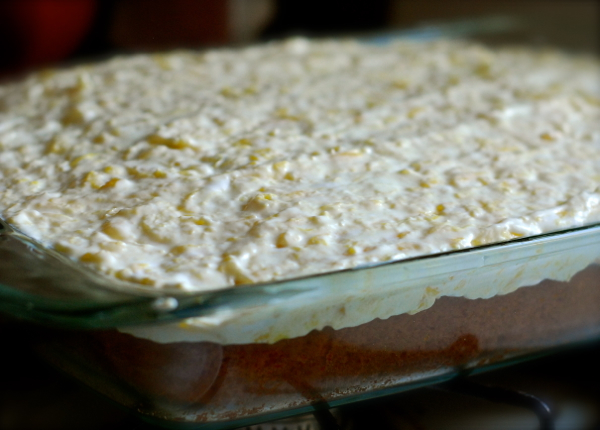 This is a wonderfully easy, moist and delicious cake! I made this instead of coconut cake this year for our Easter celebration and everyone loved it!
for the cake:
~ preheat oven to 350 degrees F. ~
1 (15 to 18 oz.) boxed pineapple cake mix (I used Pillsbury)
1 (3.4 oz.) box of instant coconut cream pudding mix
4 large eggs, lightly beaten
1/2 cup water
1/3 cup of your favorite rum (we used Bacardi)
1/4 cup vegetable oil
1 teaspoon coconut extract
Butter a 9×13 glass cake pan. Place above ingredients in the bowl of a stand mixer. Mix on low for 30 seconds just to combine. Then turn speed to medium and beat, using whisk attachment, for 3 minutes. Pour into prepared pan and bake for 25 to 30 minutes, or just until a toothpick inserted into the center of the cake comes out with a few moist crumbs on it. Cool completely before frosting and garnishing.
for the frosting:
8 oz. cream cheese, room temperature
20 oz. can crushed pineapple, drained very well and squeezed dry
2 cups marshmallow fluff
1 teaspoon rum extract
Beat cream cheese and pineapple until well combined. Fold in marshmallow fluff and rum extract until evenly combined. Spread over completely cooled cake. Cover loosely and refrigerate until ready to serve.
To serve: Cut cake into 12 squares. Plate, and top each piece with a dollop of whipped cream and a maraschino cherry.
Enjoy!
~Melissa
You may enjoy these related posts: