Print Friendly Version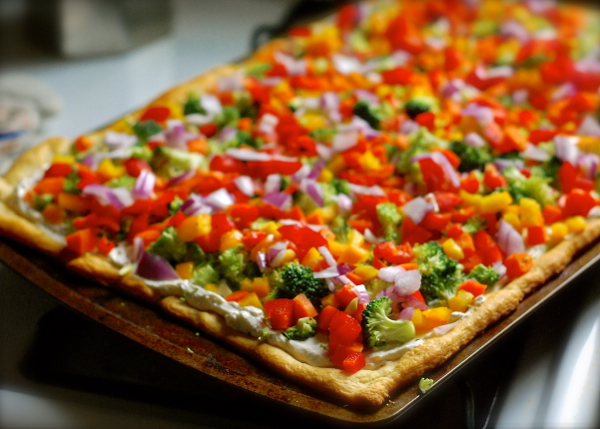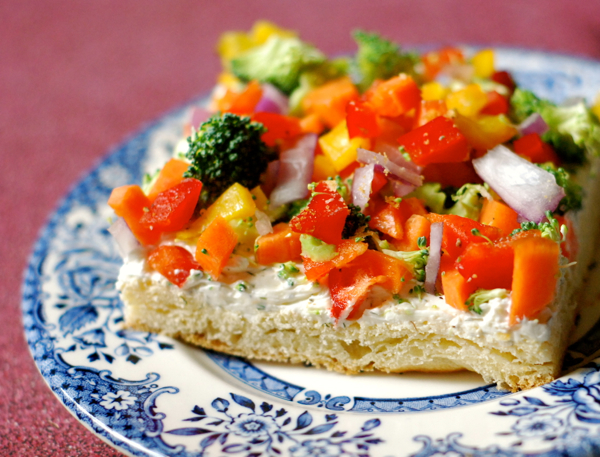 I know there are probably a bunch of recipes for this cold veggie pizza out there, but it's so good and easy, I had to share my version. I've made this a LOT, and have found that people enjoy it any time of year. It's cold and refreshing in the summer, and it's an unexpected appetizer to serve during the winter months. We just made one on Christmas and everyone demolished it.
Feel free to use your favorite fresh veggies! Sometimes I use seeded Roma tomatoes in place of the red pepper, and sometimes I substitute seeded cucumber for half of the bell pepper. The possibilities are endless!
~ preheat oven to 375 degrees F. ~
2 (8 oz.) tubes refrigerated crescent rolls (I like Pillsbury Garlic Butter)
8 oz. cream cheese (not low fat) softened to room temperature
1/4 cup real mayonnaise (not lite)
1/4 cup sour cream (not lite)
2 teaspoons dry dill
1/2 teaspoon garlic powder
1 cup small fresh broccoli florets
1/2 cup fresh chopped sweet red bell pepper
1/2 cup fresh chopped sweet yellow bell pepper
1/3 cup fresh chopped purple or green onion
1/3 to 1/2 cup fresh carrot (chopped fine)
salt and pepper, to taste
On a 10x15x1, ungreased baking sheet, unroll the crescents and spread the rectangles of dough evenly on the sheet. Push the perforated lines together. Press dough in the bottom and up the edges of the pan to create the crust for your pizza. Once the dough is evenly distributed, place sheet in preheated oven and bake for 10 to 15 minutes, or just until crust is golden brown. Remove crust from oven and cool completely (approximately 30 minutes) before topping.
In a medium mixing bowl, combine the softened cream cheese, mayonnaise, sour cream, dill, and garlic powder until well combined. Spread evenly over the cooled crust. Sprinkle the prepared veggies evenly over the cream cheese mixture. Salt and pepper to taste. Slice into 12 square pieces. Loosely cover and chill until ready to serve.
Enjoy!
~Melissa
You may enjoy these related posts: