Print Friendly Version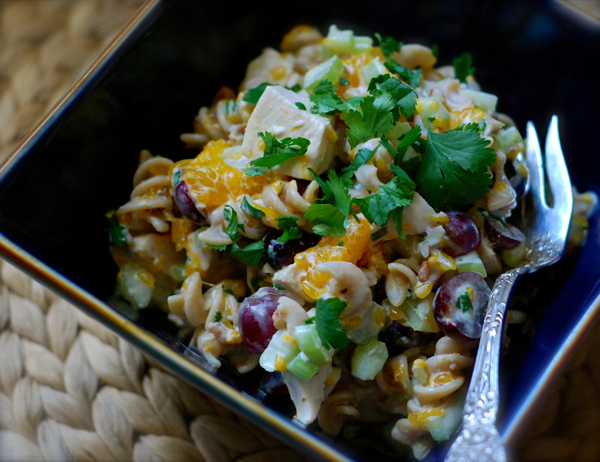 I was perusing some of my cookbooks that hail from the area where I live here in the Midwest, and I came across this! I was so excited! Bogus Creek Cafe & Bakery is this awesome little restaurant just across the bridge in Stockholm Wisconsin. We live in Red Wing, Minnesota and we're just a hop, skip and a jump from this hideaway. We love to venture over there when the weather permits. We sit on their pretty outdoor patio, surrounded by bubbling water features and birdsong. There's just something about this place that feels enchanting.
Here's another post where I talk about Stockholm and Bogus Creek.
I hope you love this salad as much as I do! It's a prefect dish for welcoming spring!
serves 10
for the salad:
6 cups celery, chopped
4 cups red grapes, halved
2 bunches green onions + green parts, chopped
8 to 10 cups cooked, chilled chicken, diced
1 cup chopped pecans
1 pound rotini pasta, cooked until al dente and cooled
6 cups mandarin oranges
for the dressing:
1 cup plain greek yogurt
1 cup sour cream
2 Tablespoons lime juice
1/4 cup honey (I used raw)
1/2 to 1 teaspoon salt
1/2 to 1 teaspoon freshly ground black pepper
1 teaspoon curry powder (or more, to taste)
1/4 cup fresh cilantro, chopped
Make dressing in a blender and combine all ingredients until smooth.
Place all salad ingredients, except for oranges, in a large salad bowl. Mix well. Gently fold in the dressing. Add the oranges just prior to serving.
Enjoy!
~Melissa
You may enjoy these related posts: