Print Friendly Version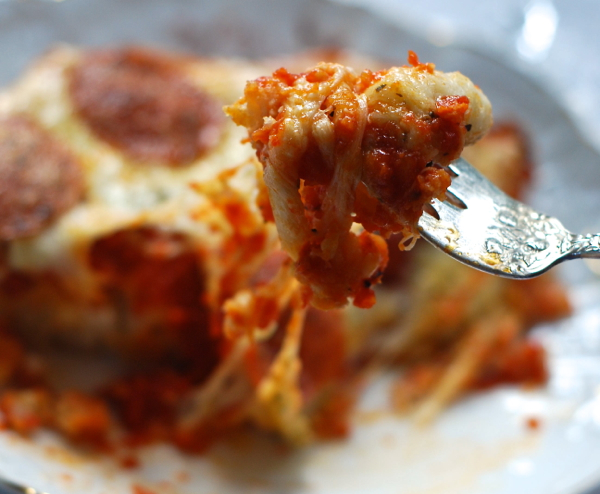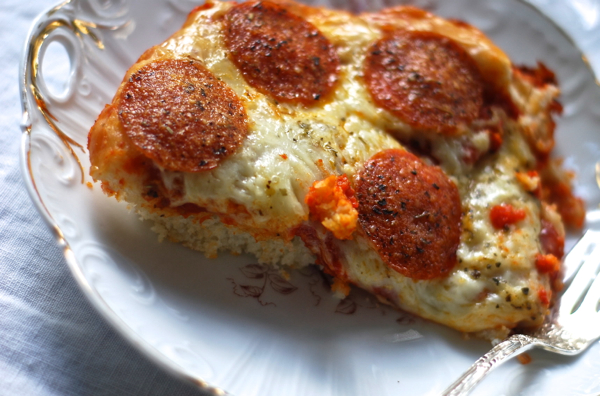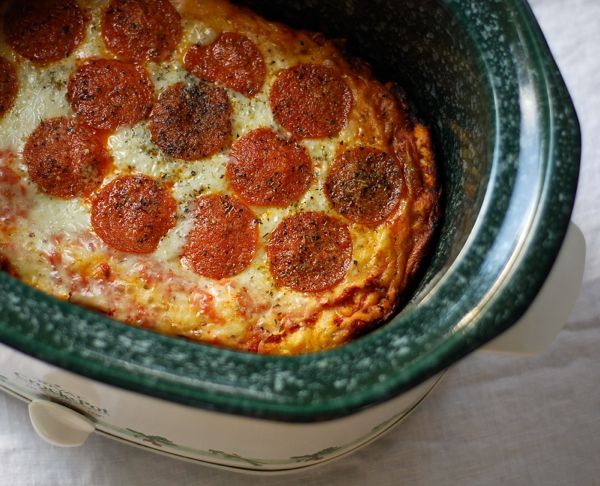 This was my first attempt at making Crock Pot pizza and I think it turned out great. This isn't a traditional crunchy crust pizza. This crust is light and soft and unlike anything I've ever had as a base for a pizza. It's really wonderful and different. I plan on experimenting with this recipe and tweaking the crust to offer a variety of textures and thicknesses to please every palate.
My favorite part about making this pizza is the minimal ingredients and the ease of the recipe. So simple! This would be an awesome treat to make with kids.
If you choose to use veggies or mushrooms as toppings, saute them first and blot them dry so they don't add too much moisture to your pizza. If you choose to use meat, such as hamburger or sausage, either use fully cooked/cured meat or cook it prior to sprinkling it on your pizza.
2 teaspoons extra virgin olive oil
1 and 1/2 cups Bisquick baking mix (the regular or low-fat versions will both work)
3/4 cup water
15 oz. pizza sauce (either homemade OR we like Don Pepino)
2 cups grated Mozzarella cheese
your favorite pizza toppings (we just used pepperoni this time)
1/2 teaspoon onion powder
1/4 teaspoon garlic powder
1/4 cup grated Parmesan cheese
1/2 teaspoon dry basil leaves
1/2 teaspoon dry oregano leaves
1/4 teaspoon salt
1/4 teaspoon ground black pepper or red pepper flakes
1.) Coat the bottom of a 6 quart Crock Pot/slow cooker (and about one inch up the sides) with the olive oil.
2.) Spread 1/4 of the sauce in the bottom of the Crock Pot.
3.) In a medium mixing bowl, mix the Bisquick and water until thoroughly combined. Spread this dough on top of the sauce, evenly, so it almost reaches the sides of the crock. Cover the dough with the remaining sauce so it completely coated.
4.) Top with the cheeses, toppings and seasonings.
5.) Cover and cook on high for 2 hours.
6.) Cut into slices, plate and serve.
Enjoy!
~Melissa
You may enjoy these related posts: