Print Friendly Version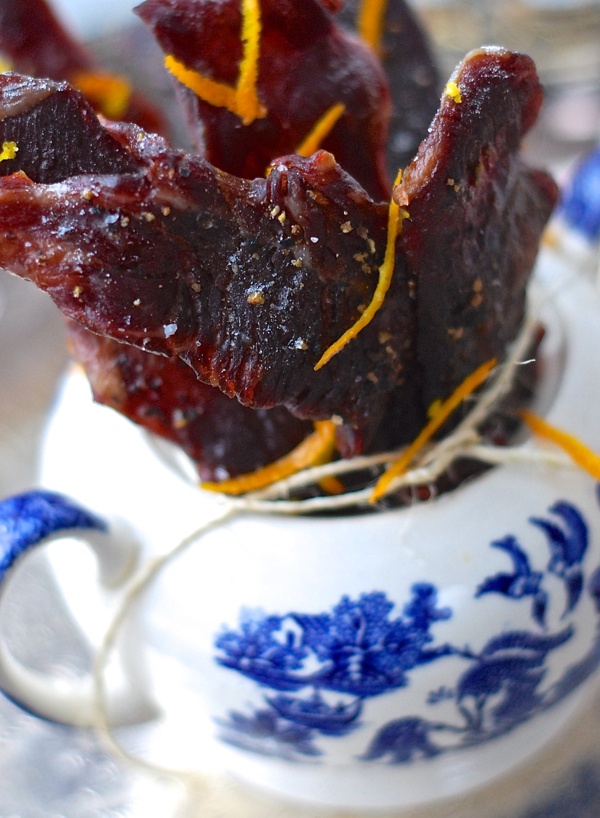 My husband, Jeff, tried to make beef jerky a few times and the third time was definitely the charm. What he came up with is some of the best, most tender jerky I've ever had, and it's really very simple to make. Full of bright ginger and orange flavor without being too salty. Soooo yummy! The perfect high protein snack.
1 bottle La Choy Orange Ginger Sauce/Marinade
2 lb. top round of beef, (1 and 1/2 inches thick)
freshly ground black pepper
raw, turbinado sugar
fresh orange zest
coarse sea salt
Trim fat from beef and cut it into 1/4 inch slices. Place in a large ziploc along with the whole bottle of orange-ginger sauce. Marinate for about 18 hours.
Remove meat from bag and sauce. Discard bag and sauce. Place baking racks on top of large baking sheets. Place the strips of marinated beef in one layer on the racks. Sprinkle with some freshly ground black pepper and raw sugar. Bake on the racks (with the baking sheets beneath them) for two to three hours at 200 degrees F. (or until firm and mostly dry.) We like our jerky a little more moist, so we take ours out at around two hours.
Taste the jerky, and sprinkle with a little coarse sea salt if needed. Grate a little fresh orange zest over the jerky. Allow to cool and then place in an air-tight container in the fridge. Will keep for about a week.
Enjoy!
~Melissa
You may enjoy these related posts: