Print Friendly Version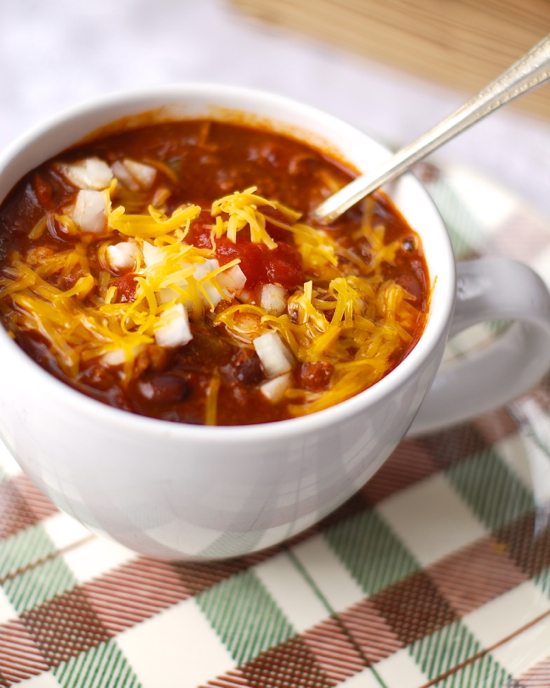 It's raining cats and dogs here in Minnesota today. It's the kind of day when you long for a big cup of hot tea, a quilt, and a good book….Oh, and this…
The flavors of beef, Mexican spices, red wine, three kinds of beans and Guinness beer meld together in a rich, tomato based sauce to create the richest, most flavorful chili imaginable. Enjoy with THIS sweet, cake-like corn bread for a taste that will rock your tastebuds.
1/2 lb. bacon
1 cup beef broth
1 lb. stewing meat cut into cubes OR one pound ground chuck
1 lb shredded, cooked chicken OR pork
1 large can Guinness beer
1/3 cup dry red wine
6 oz tomato paste with oven roasted garlic added
2 Tablespoons paprika
2 Tablespoons unsweetened cocoa powder
1/4 cup chili powder
2 Tablespoons cumin
1 Tablespoon onion powder
1 teaspoon garlic powder
dash of sweet curry powder
2 Tablespoons Sriracha hot sauce
28 oz. petite diced tomatoes
15 oz. chunky salsa
7 oz. can chopped green chilies
1 can black chili beans (undreined)
1 can pinto chili beans (undrained)
1 can Great Northern beans (drained and rinsed)
Brown bacon in Dutch oven until crispy. Remove bacon to a paper towel-lined plate to cool. Discard all but 2 Tablespoons of the drippings. Deglaze Dutch oven with the beef broth. Remove from heat and set aside.
Place the stewing meat/ground chuck and chicken/pork in a big, glass mixing bowl. Pour the Guinness, red wine and tomato paste over the meat. Using a wire whisk, mix tomato paste into the beer/wine mixture. Allow meat to marinate for one hour.
Heat the broth in the Dutch oven until simmering. Add the meat mixture, tomatoes, salsa, green chilies, Sriracha and all spices. Heat until simmering and cook until meat is done. Add the bacon back to the chili. Add all beans and cook until heated through.
Ladle into bowls. Top with shredded cheddar-jack, sour cream, guacamole, sliced black olives, chopped onion and cilantro if you like. Salt and pepper to taste.
You may enjoy these related posts: