Print Friendly Version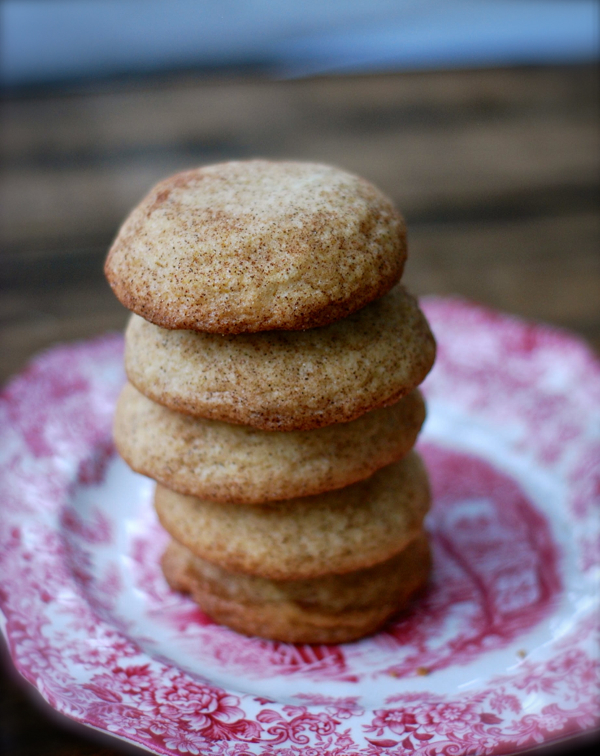 ~snickerdoodles~
A couple days after my post about the sauteed garlic green beans I woke up and felt a familiar chill in the air. The sort of chill that says Autumn is just around the corner. I had a yen to bake something, and Gracie suggested we make cookies. These are the cinnamony, sugary, chewy snickerdoodles that are awesome with milk. Not to be confused with the crispy, crunchy variety.
2 and 3/4 cup all purpose flour
2 teaspoons cream of tartar
1 teaspoon baking soda
1/2 teaspoon salt
1 and 3/4 cup sugar
1 Tablespoon cinnamon
2 sticks butter, softened at room temperature
2 large eggs
1 teaspoon pure vanilla extract
1/2 teaspoon pure almond extract
Position oven rack to the middle position. Preheat oven to 350 degrees F. Lightly oil two large baking sheets.
Sift flour, cream of tartar, baking soda, and salt in a medium bowl and set aside. In a small bowl, combine 1/4 cup of the sugar and the cinnamon. Set aside. In a large bowl, using an electric mixer on medium speed (I use my Kitchen Aid for this step) beat the butter, and remaining 1 and 1/2 cups sugar until fluffy (about 1 minute.) Scrape the sides of the bowl as needed during the mixing process. Add eggs, vanilla,  and almond extract and mix until blended (about 1 minute.) On low speed, add the flour mixture. Mix until just incorporated. The dough will be soft and smooth.
Using an ice cream scoop, scoop out portions of dough. Roll between the palms of your hands into a ball. Roll in the cinnamon-sugar mixture. Coat evenly. Place the cookies 3 inches apart on the prepared cookie sheets.
Bake cookies, one sheet at a time, just until bottoms and edges are golden (18-20 minutes.) To insure a soft, chewy center, make sure you don't over-bake these cookies. When you remove the cookies from the oven, allow them to rest on the cookie sheet for 5 minutes before removing them to cooling racks to cool completely.
Store in a tightly covered container at room temperature for up to three days. Enjoy!
Have you felt that chill in the air where you live?
What's your favorite thing to bake in the Autumn?
~Melissa
You may enjoy these related posts: