Print Friendly Version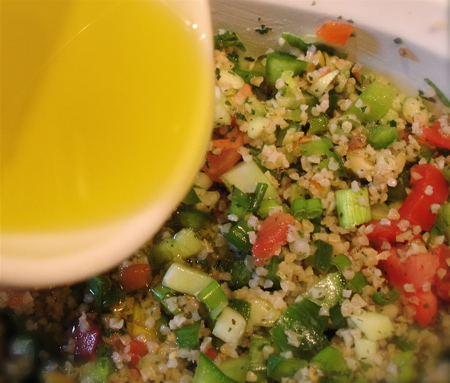 ~tabbouleh~
"If you have a complete set of salad bowls and they all say Kool Whip on the side, you might be a redneck." ~Jeff Foxworthy
Summer time is the time for salads and light meals that don't heat up the kitchen and take hours to prepare. This salad is just the ticket. It's oh-so-good for you and filling enough to count as a main course if you add chicken chunks to it. And I do.
1 cup bulgur wheat
1 cup boiling chicken broth
1 large tomato, seeded, diced
1 large cucumber, peeled, seeded, chopped
1 cup green or Kalamata olives, chopped
1 bell pepper, seeded and chopped
5 green onions chopped (including green part)
2-3 garlic cloves, minced
1/3 cup fresh mint, chopped fine
1/2 cup fresh parsley, chopped fine
6 oz. feta cheese, crumbled
3 large boneless, skinless chicken breasts, cooked
2/3 cup olive oil
Place bulgur in a bowl and cover with 1 cup boiling chicken broth. Soak for 45 minutes. All liquid should be absorbed at this point. If not, just squeeze out extra liquid. Chop the chicken into bite-size chunks and chill while the bulgur soaks.
In a large mixing bowl, combine all ingredients. Toss. Cover. Refrigerate for 4-6 hours. Toss again just before serving.
Enjoy!
~Melissa
You may enjoy these related posts: