Print Friendly Version
This is a delicious, easy, healthy dish that you can prepare quickly in the morning, and 6 hours later…dinner is served!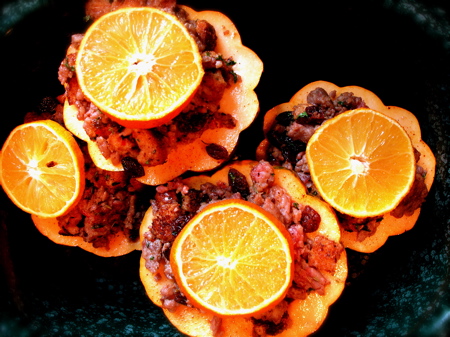 photograph by Melissa Placzek
~ Slow Cooker Stuffed Acorn Squash~
2 acorn squash, halved and seeded
1 Tablespoon olive oil
1/2 lb. light bulk sausage
1/2 lb. ground bison
1 large egg, beaten
3 slices raisin bread, toasted and cubed
1/4 cup chopped apple
1 teaspoon onion powder
1/4 teaspoon ground nutmeg
1/4 teaspoon ground ginger
1/2 teaspoon Dijon mustard
1 orange, sliced
Orange-Nutmeg Sauce:
1 Tablespoon cornstarch
1 cup orange juice
1 Tablespoon honey
1 teaspoon lemon juice
1 teaspoon lemon zest
Ground nutmeg
Cut acorn squash in half, take out the seeds, toss them with a teaspoon or two of olive oil. Place in a cast iron skillet or on a small cookie sheet and bake in a 350 oven until golden brown (about 15 minutes.) Set aside for garnish.
Brush the edges and inside of squash halves with olive oil. Brown sausage and bison in a skillet. In a small bowl, combine meat mixture with egg, toasted bread, apple, onion powder, nutmeg, ginger, and mustard. Spoon into squash halves. Place cut-side up in slow cooker. Top each with a slice of orange. You may have to put two of the halves on bottom and two on top (pictured above) so it all fits in the crock. Cover pot. Cook on low for 6 hours, or until squash is tender, and sausage is cooked completely.
For the sauce:
In asmall saucepan, dissolve cornstarch in orange juice. cook over moderate, stirring with a wire whisk until thickened. Stir in honey, lemon juice and zest. Plate the squash halves. Spoon sauce over. Top with a little more nutmeg and toasted squash seeds.
Enjoy!
~Melissa
You may enjoy these related posts: