Print Friendly Version
Before I start talking about my favorite way to make a single serving of tea, without using a tea ball or tea ball infuser, I have to say that the very best way to make tea is in a glass, china or porcelain tea pot. This method has not been improved upon in the last millennium.
That being said, there are a few fun ways to infuse loose-leaf tea into boiling water when you just want to make a quick cup or two. I don't recommend using a tea ball. Tea balls and tea ball infusers generally don't work very well. They crowd tealeaves and don't allow the water to freely surround the leaves during brewing time. This causes the leaves to only open partially resulting in an inferior cup of tea. Using a fillable tea bag is better…or even the Gamila tea stick which doesn't completely enclose the leaves and allows better flow during brew time than a tea ball.
Mr. Harney of Harney and Sons advises against using a tea ball.…
Bill Waddington of the Tea Source agrees. Read his ARTICLE here.
The adagio ingenuiTEA infuser that I purchased at a local tearoom a few years ago is my absolute favorite infuser. It's easy and fun to use and very easy to clean…and because it's actually a little teapot, it won't crowd your tealeaves.
Just add 4 demitasse spoonfuls of your favorite loose-leaf tea…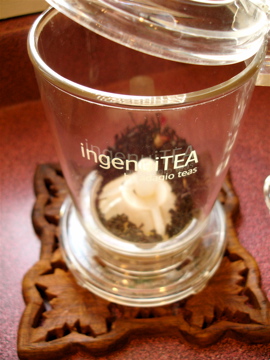 Pour boiling water over the leaves, close top of infuser and steep for 4 minutes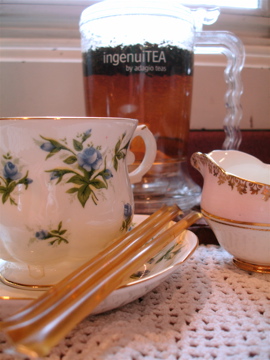 Place ingenuiTEA infuser on top of a teacup and allow tea to drip into cup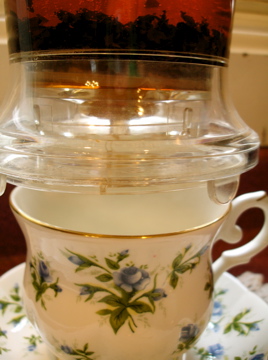 Add milk and honey if you wish…we like to use these delicious HONEY TEA STICKS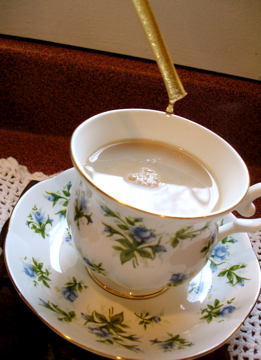 Enjoy!
~Melissa
You may enjoy these related posts: