Print Friendly Version
I purchased a bottle of Frangelico instead of Irish cream for sipping this Holiday season, and at first I was a little disappointed. I had a couple on "the rocks" and it just wasn't doing it for me…so I decided to invent something new. What I came up with is going to knock your nutcracker socks off….ready?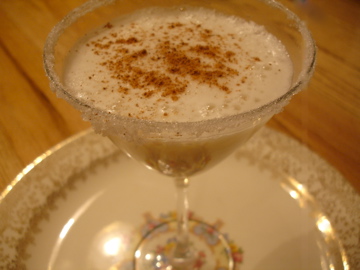 ~Nutcracker Suite Martini~
In a cocktail shaker, combine:
1 large handful ice
2 shots Frangelico Hazelnut Liqueur
1 shot heavy cream or half & half
place cover on the top of shaker and…
shake it like you mean it 😉
IMPORTANT!
Rim a large martini glass with a combination of sugar and salt
carefully pour contents of shaker into glass
top with a pinch of nutmeg
Serve it forth
Enjoy!
X and O,
~Melissa
You may enjoy these related posts: