Print Friendly Version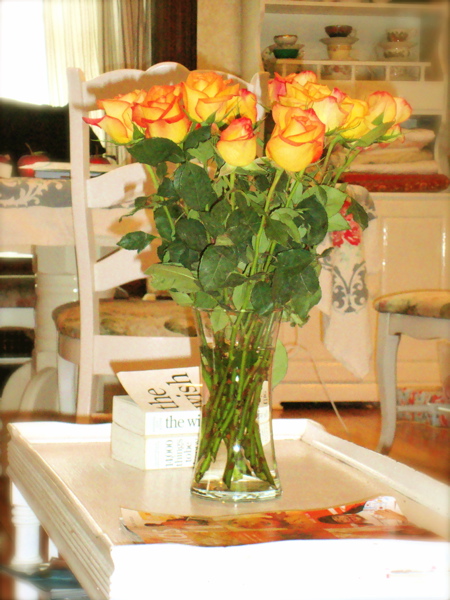 "The preparation of good food is merely another expression of art, one of the joys of civilized living"
~Dione Lucas
I love this time of year for entertaining friends and family. I have a list of a few of my favorite entertaining tips that I thought I'd pass your way. I'm always looking for new, fun ideas for my company…so please share your thoughts and inspired ideas as well!
If your party is being held in the summer, chill your glasses and salad plates in the refrigerator of freezer prior to serving.
Instead of keeping warm hors d'oeuvres in crockpots, why not use those heirloom pieces or antique store finds? A silver chafing dish looks so much prettier with it's small flame burning merrily underneath.
Use large, fishbowl wine glasses as floating candle holders or trifle dishes. Trifle is such a simple dessert to prepare! Just layer bits of pound cake, berries and vanilla pudding for a light, beautiful dessert.
Antique or vintage milk bottles are beautiful containers for milk or maple syrup on the breakfast table. Another fun idea: place a milk bottle on each guest's plate and put a rolled up menu inside. Tie with a pretty ribbon, or string so you can pull them out of the bottle with ease.
Ice cubes with edible blossoms frozen inside look beautiful in a glass of lemonade or ice water.
Ice sticks can be made using these wonderfully innovative ice stick trays from IKEA. SO pretty with a herb sprig frozen inside…a great way to add lavender to a glass of iced tea, or rosemary to lemonade.
For each half gallon of pink lemonade, add 2 Tablespoons culinary rosewater. Instant elegance.
If you own a glass cake plate, try turning it upside down sometime…mine has a little 'bowl' area that can be filled with ice. I can place a little antique finger bowl on the ice and fill it with dip. The ice keeps the dip cold. The lower plate part is the perfect place to arrange crackers or shortbreads and veggies or fruits for dipping.
One of my favorite appetizers is crusty, Italian bread and good quality, extra virgin olive oil. An elegant way to embellish this is to make an olive oil 'brush' by tying a few sprigs of thyme or rosemary together with a piece of string. Use it to brush the oil on the bread.
An easy, festive idea for an impromptu dinner party: Order a variety of Chinese takeout entrees and re-plate them once you get them home. It's simple, tasty, and this way you'll get to be a guest at your own party. Don't forget the chopsticks and fortune cookies! Another take on this would be to get a bunch of entrees from your local deli and have a salad bar or sandwich party.
Pass "Ice Breaker" name tags to each guest including an interesting fact about that person…like their occupation, or a hobby they enjoy. Example: if your friend Bob is a baker, his name tag could say "I make dough rise." 🙂
Instead of napkin rings, tie your napkins with a pretty piece of silk ribbon, raffia, or ivy.
Are you the lucky owner of silver wine goblets? Don't let them collect dust in your china hutch…They are wonderful for serving orange juice at a breakfast or brunch.
I look forward to hearing your ideas!
xo,
~Melissa
You may enjoy these related posts: