Print Friendly Version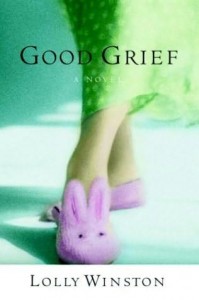 I remember when this book first came out in 2004 and seeing it's pretty, glossy book jacket at Barnes & Noble. I remember reading the flap copy, sighing, and thinking, "That sounds way too sad." So I put it back on the display table.
Over the years this book would pop up in different places and I'd ignore it, knowing that it was just going to make me cry.
Well, a couple weeks ago there it was again, peeking out at me from a thrift store shelf for only $1.50 and decided I couldn't pass up the price. I could always give it back to the thrift store if it was too much.
I wish I wouldn't have taken so long to read this book. The subject matter is heavy, but the writing is superb. I only cried once. It was actually one of the funniest books I've ever read. I would usually go into some detail here about the plot and story line, but this time I'm going to keep that part a mystery. I would suggest just picking it up and reading it. Don't bother reading the flap copy or the back of the book, because it's a little misleading. Happy reading!
~Melissa
You may enjoy these related posts: