Print Friendly Version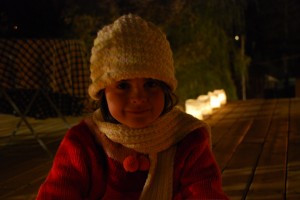 "… Even though there are no knitting police and we could start 20,000 projects a day (if we wanted to) we try to 'do better' or work on being a monogamous 'one project at a time' knitter…as though there was some sort of moral victory in resisting the urge to do more of what we love." ~Stephanie Pearl-McPhee author of Things I Learned from Knitting (Whether I Wanted to or Not)
One of my readers asked me to post some of my knitted projects, and unfortunately I haven't taken pictures of many things I've knitted. Jeff just happened to take this picture of Gracie in a hat and scarf I had made for her. Now that I'm blogging, I'm more mindful of photo opportunities as they arise.
If you'd like to make this hat and scarf, they're very easy. The hat was actually knitted flat, gathered, and then carefully sewn together with a yarn needle to create a seam up the back. The scarf was knitted from the same wool yarn and made in the classic, knit 2 purl 2 ribbing pattern.
To create the hat:
Size 8 BOYE knitting needles
medium (4) weight yarn of your choosing
Cast on 100 stitches (for a child's size medium)
Pattern–
Row 1: knit across
Row 2: purl across
Row 3: K1, P1 across
Row 4: purl across
Repeat these 4 rows until the knitted piece measures 8 inches, ending with a purl row
Next row: K1, K2 together (to decrease) together across until last stitch (51 sts.)
Next Row: purl across
Repeat these two rows one more time.
Cut yarn leaving a 12 to 15 inch length tail; weave this back through the remaining stitches pulling tightly together. Sew a side seam using a yarn needle, and make a pom-pom for the top if you wish. The hat makes it's own roll-up brim. Adorable!
Best,
Melissa
You may enjoy these related posts: