Print Friendly Version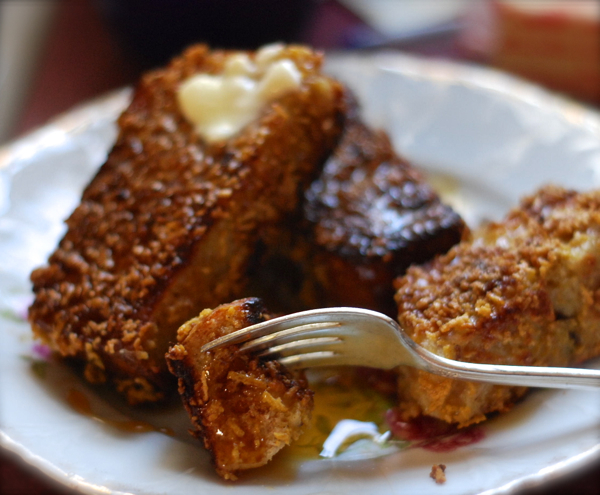 Hello, Lovelies. It was a semi-warm day here in MN (and when I say warm I mean not below zero.) So, my friend Nancy and I decided to steal away and enjoy a day of thrifting (we found some great stuff!) and a little lunch at Kelly's Pub. We sat in a cozy booth by the window overlooking the train tracks and frozen river. We munched on yummy sammys, soup, fries, chicken and sweet potato tots, and chatted about family and our favorite television shows. Sometimes it's so nice to just take a day off.
Here's a yummy, easy treat to make for a special brunch or weekend breakfast. These really are super crunchy outside and tender inside. Perfect French toast IMHO.
A word of warning: I made the first batch with butter and they didn't turn out. The butter burns before the toast is completely cooked through.  If you're using a thick, rustic bread, trust me, you'll want to make these in vegetable or canola oil or your cats will be scared when the smoke alarm goes off.
serves 8
6 large eggs
1/2 cup half & half
1/4 cup brown sugar
1 teaspoon pure vanilla extract
1 teaspoon cinnamon
1/2 teaspoon nutmeg
pinch of salt
4 cups corn chex cereal (or corn flakes) crushed
8 slices rustic bread (sliced thick) I used THIS bread
2 Tablespoons vegetable oil or canola oil
extra butter for topping
your favorite maple syrup
Whisk eggs, half & half, brown sugar, vanilla, spices and salt in a big mixing bowl. Spread crushed cereal on a big plate.
Cut each slice of bread into 3 sticks. Dip each stick of bread into the egg batter and then press into the crushed cereal (coating completely.) Place coated sticks on a plate (don't stack.)
Heat the oil in a large, non-stick skillet over medium heat. Once heated, place some of the toast sticks in the pan (don't crowd pan.) Cook until golden (about 4 minutes on each side.) Watch closely and check often to make sure you don't burn the French toast. Adjust heat accordingly.
Serve immediately with butter, fresh fruit and your favorite syrup.
Enjoy!
~Melissa
You may enjoy these related posts: