Print Friendly Version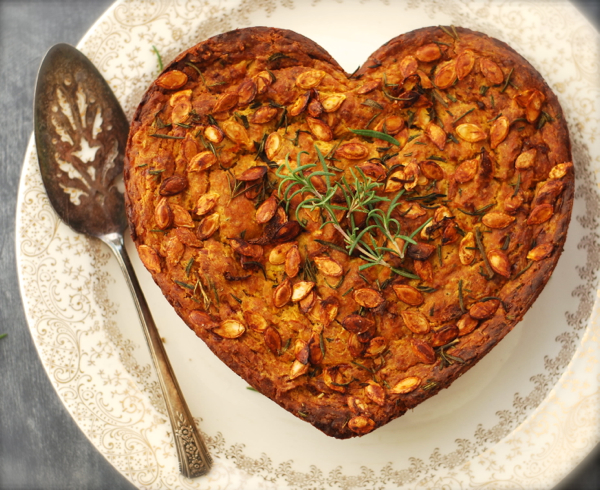 "Miss Ainslie gathered a bit of rosemary, crushing it between her white fingers. 'See,'  she said, 'some of us are like that, it takes a blow to find the sweetness in our souls.' " ~ Lavender and Old Lace by Myrtle Reed (1874–1911) American Poet and Journalist
In a big mixing bowl, combine the wet ingredients:
 2 cups cooked, mashed butternut squash
 1/3 cup buttermilk
 2 large eggs
3/4 cup Parmesan cheese
 1/2 cup shredded cheddar cheese
1/4 cup finely chopped onion
 2 Tablespoons honey
 3 Tablespoons extra virgin olive oil
2 Tablespoons finely chopped, fresh rosemary
 1 teaspoon minced garlic
 In a separate mixing bowl, combine the dry ingredients:
 2 and 1/2 cups all-purpose flour
 4 teaspoons baking powder
 1/2 teaspoon smoked paprika
 Mix wet and dry ingredients just until well combined and evenly incorporated. Butter a 2 quart casserole pan (or, 10-12 large muffin tins, if you prefer.). Pour batter into casserole pan(s).  Sprinkle the top(s) with toasted squash seeds and a little more rosemary, coarsely chopped.
 For a casserole loaf: bake at 425 degrees for 45 minutes to an hour, or until deep golden brown and a knife inserted into the center of the bread comes clean… For muffins: bake at 425 degrees for 20-25 minutes or until set and a toothpick comes clean when inserted in center of a muffin. Remove from oven and allow to cool in the pan for about 15 minutes before transferring to a cooling rack. Cool completely before putting bread or muffins in an air-tight container and storing in the fridge.
Enjoy!
~Melissa
You may enjoy these related posts: