Print Friendly Version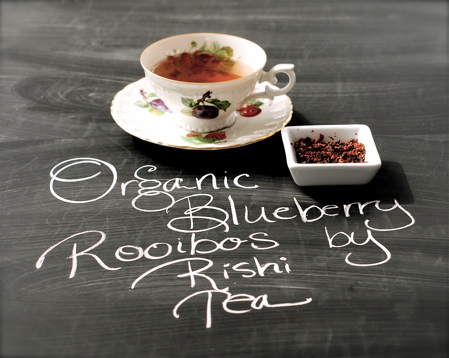 Jeff surprised me with a few new teas one evening when  he came home after a day in the cities. I've decided to photograph and review them for my blog, and along the way I've gotten some good shots for the tea book.
This particular "tea" is not actually tea per se, but African red bush, also known as rooibos. I love the flavors in this particular blend by Rishi Tea.
"African rooibos and real, wild blueberries in perfect balance provide tart, juicy and naturally sweet flavors that taste great hot or iced. Blueberry rooibos is artfully hand blended in small batches using only 100% naturally caffeine-free botanicals and artisan herbal tea-blending techniques. " ~ from the Rishi Tea website
My friend Nancy and I enjoyed a lovely pot of this amazing tea over a little lunch "picnic" (three different kinds of salad, fruit and crackers) that she brought over last week for noshing while we watched a movie. I like her description of this tea… "dessert in a cup!"
Happy Teatime Tuesday!
~Melissa
You may enjoy these related posts: