Print Friendly Version
Here's how to make a quick, easy and delicious
Dutch oven chicken
It's so simple, I think this may become one of your
favorite recipes…
ready?
In a Dutch oven:
Heat 3 Tablespoons
extra virgin olive oil
Brown a whole, organic, free range chicken
breast down for about 4 minutes.
Using a wooden spoon,
gently move the bird a couple times to prevent sticking.
Flip and brown an additional 6-8 minutes.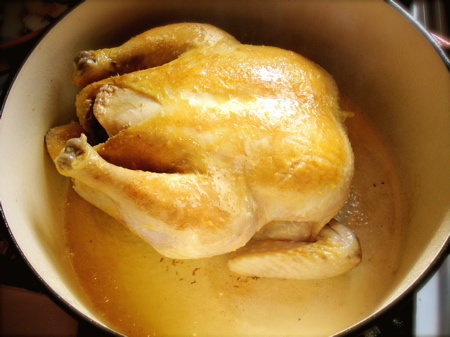 Turn off heat under chicken.
Pour a cup of white wine or beer over top.
Sprinkle generously with:
garlic powder
onion powder
Italian seasoning
paprkia
a pinch of nutmeg
seasoned salt
&
freshly ground black pepper
and a dash of cayenne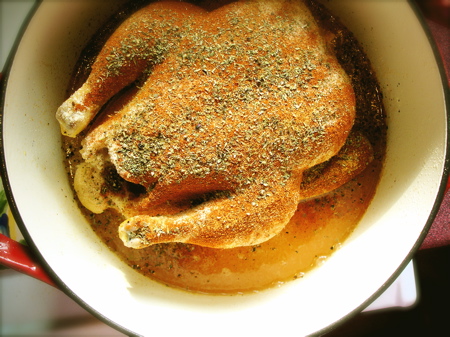 Now…
top with fresh carrot and celery slices
cut on an extreme diagonal
(Just like my friend Suki taught me)
8 chopped green onions
4 Tablespoons pesto
and a couple fried pieces of bacon, crumbled.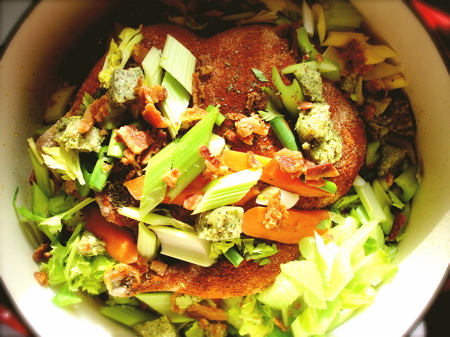 photographs by Melissa Placzek
Cover and cook in a 350 degree oven for
60-80 minutes
or until meat thermometer reaches
180 degrees when tested in various fleshy spots.
Enjoy!
~Melissa
You may enjoy these related posts: