Print Friendly Version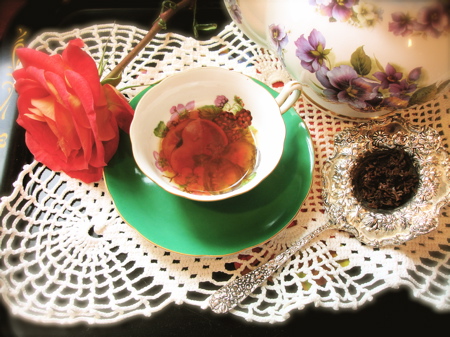 photograph by Melissa Placzek
:: Tea of the Week ::
Harmutty Second Flush Assam
Other than Keemun, this  is the kind of black tea I drink most often. Sometimes I mix the two. But I drink so much of this that I keep mine in a paint can-sized tin instead of a dainty tea tin. I love it. In my opinion, the most drinkable of any tea. It makes awesome iced tea too. Unfortunately we still have a couple feet of snow here in MN, so, that blog post will have to wait until a later date.
Assam is an Indian tea, and was first grown in Calcutta's botanical gardens. Today India is one of the world's largest producers of tea with over 13,000 gardens.
Characteristics: rich, very smooth and slightly sweet
Appearance: Second Flush Assam is excellent quality. The very tips of new leaves, warm brown in color, golden flecks. When brewed they release a warm, coppery-amber liquor.
Tea Pairing: My favorite tea with cream scones and jam, quiche, and fresh fruit. The definitive breakfast tea.
:: Tea Fact ::
In India the first attempt to grow the Chinese Camellia Sinesis plants failed and the local Indian Camellia Sinesis Assamica was used instead. So when you drink Assam you aren't just drinking a Chinese tea that was transplanted in India, but a true Indian variety.
Enjoy!
What's in your teacup today?
What are your favorite tea treats?
~Melissa
You may enjoy these related posts: