Print Friendly Version
I would like to welcome my friend and talented quilter, Maria Denise Davis, back as a guest artist/blogger here on ChinDeep!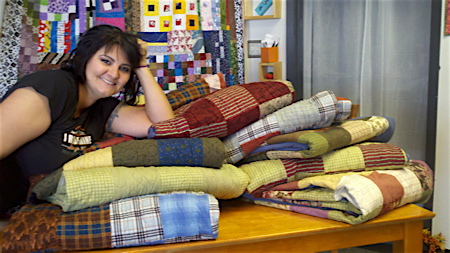 Quilt Designer Maria Denise Davis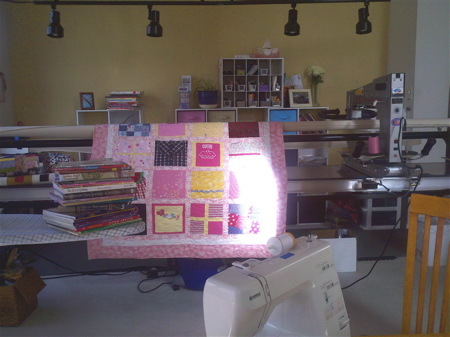 Maria's studio
I remember a pivotal moment in my childhood, when I was about six years old. I was sitting on the back steps of my friends house and we were painting. We started out using color-by-number sheets, but eventually bored of them and decided to color and paint our own creations. I drew a blank.
At that very moment, I had the world as my oyster; no lines to follow, no instructions on what color should go where or how the final picture would look. Just a clean, blank slate for me to fill with whatever my imagination could offer. I was distraught at my inability to come up with something to put on that paper. I was worried that my creativity had already dried up and that I had nothing unique left to create from within.
Fortunately, I was wrong. In fact, the opposite is mostly the case these days. I have trouble falling asleep, but not from worry about losing my paycheck from corporate monotony, rather it's the excitement of tomorrow's possibilities that keeps me awake.
My real confirmation that my career choice was correct lies simply in the fact that I LOVE my job, and I can barely wait to get back to it anytime I have to stop. I have many options as to what specific activity will fill my day, but I enjoy nearly every minute of it, whether I choose to create a quilt top I've been pining to make, or making new patterns on a charity quilt with my thread and my imagination.
My current excitement is based around three aspects: increasing my quilting skills by introducing modern and Asian drawing techniques to create new and interesting patterns, teaching and inspiring others to love quilt making and quilting, and educating myself to become a certified quilt appraiser.
I have taken on the latter task with a vengeance. I have acquired nearly half the books (there's about 110 total) required, and read through a few already. I am eligible to test for certification in early 2012. Look for me on Antiques Roadshow after that! In the meantime, if you find yourself drawing a blank, don't worry, just make a tree or a sunset, because, inevitably, it will be beautiful. ~Maria Denise Davis
Thanks Maria!
~Melissa
You may enjoy these related posts: