Print Friendly Version
"I adore simple pleasures. They are the last refuge of the complex." ~Oscar Wilde
This time of year I usually head to the kitchen to make my coffee first thing in the morning, and while I wait for the water to boil I make a new batch of sun tea. We go through about a gallon of the stuff a day. If I'm busy I just throw 5 or 6 Twinings English Breakfast tea bags in my sun tea jar, fill it with water and set it out on the deck. When I have more time, I like to make this:
Tropical Fruit Sun Tea
(from Art Smith's cookbook Back to the Table)
1 cup loose, fruit flavored, black tea (I like Mrs. Kelly's Minneapple, Mindy Kelly was the tea blender for both of the tearooms I worked for. The BEST tea in the twin cities!)
zest of 1/2 lemon
zest of 1/2 orange
1 cinnamon stick
1/4 cup sliced, crystallized ginger
10 cups bottled spring water
orange and lemon slices for garnish
Place the tea leaves, lemon and orange zests, cinnamon stick, and ginger in a large square or rinsed cheesecloth. Tie into a bundle to create a tea bag. Pour water into a clear glass jar. Add the tea bag to the jar, cover tightly, and place the jar in a sunny place outside. Let it steep for 4 hours. Remove the tea bag. Refrigerate tea until ready to serve. Serve in ice filled glasses and garnish with the citrus slices.
This weekend has been perfect for sipping sun tea out on the deck. I brought a beach towel out there yesterday, rubbed down with Hawaiian Tropic tanning oil and read a few chapters of The Picture of Dorian Grey by Oscar Wilde.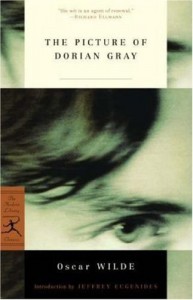 I am thoroughly enjoying this book and it's subtle (and sometimes not-so-subtle) commentary on social class, beauty, and mortality. It's undertones of homoeroticism must have caused quite a stir in the 1800's. While reading it I've been reminded of other books that I've read in the same genre (Gothic Horror Fiction) such as Faust and Dr. Jekyll and Mr. Hyde. It's great.
Yesterday evening we had the brilliant idea of grilling up some gourmet burgers using a recipe from our favorite burger recipe website. We made #20, The Mona Lisa… and it was so wonderful it brought a tear to my eye 🙂 We had Bombay Sapphire gin martinis with the burgers. Mmmmmm….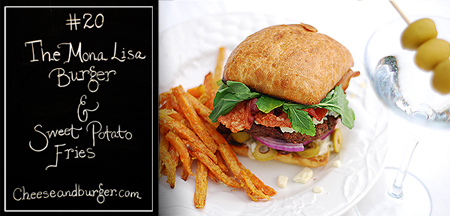 To make the Mona Lisa Burger…
Spread about a tablespoon of garlic mayonnaise on the bottom half of a buttered, grilled Cibatta roll. Top mayo with sliced Sicilian olives, sundried tomatoes that have been soaking in extra virgin olive oil, a slice of purple onion, a 1/3 lb. grilled beef or bison burger, gorgonzola crumbles, 2 slices of crisp bacon, a few arugula leaves. Slather the top of the grilled Cibatta roll with more garlic mayo and place on top of the burger.
We topped off the day with a Netflix movie. Sherlock Holmes, starring Robert Downey Jr., Jude Law and Rachel McAdams. It was hilarious, suspenseful, and beautifully done. I loved the overall "steam punk" feel of this flick.
How are you spending this beautiful weekend?
~Melissa
You may enjoy these related posts: