Print Friendly Version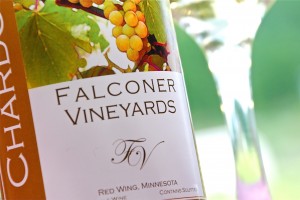 We visit Falconer Vineyards several times a year… Especially during the warm months, for romantic 'wine picnics.' Sometimes we pack an elaborate picnic basket with brie, lavender honey, baguette, honey crisp apples, tart red grapes, anjou pears, oven roasted garlic artisan bread, marinated olives, and dark chocolate. Other times we stop at the local Sub House and get our favorite sandwiches made to order. (The number 11 is my personal favorite…maple glazed turkey, cheddar cheese, avocado, sprouts, banana peppers and onions on their fabulous crusty, white bread.)
The setting at the vineyard is gorgeous. We like to sit at the gazebo picnic table, but if that one's taken (which it often is) we have a second favorite table that is set in the shade and has a beautiful view of the vineyard…rows and rows of gnarled grapevines in a sea of green.
On top of the amazing location, Falconer Vineyards has won awards for their wines. Their Frontenac Port won the first Governor's Cup at the Minnesota State Fair in the first annual International Cold Climate Competition. Our personal favorites include: Frontenac Vineyard's Chardonnay, and Frontenac Vineyard's Marechal Foch.
If you happen to be traveling to Red Wing, stop in at Falconer Vineyards for a wine tasting!
Cheers!
~Melissa
You may enjoy these related posts: