Print Friendly Version
"And they were canopied by blue sky…so cloudless, clear and purely beautiful." ~Lord Byron
In my book, "Welcome Home-Simple Tips for Turning Your House into a Luxurious Retreat," on page 54, I wrote all about 'Fresh Air Rooms.' Porches, sun rooms, patios, decks, and gazebos would all fall into this category.
The wrap around porch on the front of our house was definitely one of the things that attracted us to our little Victorian cottage. When the weather gets nice we figure out ways to spend as much time out there as possible. It's not a huge porch, but there's enough room for a table and 4 chairs and a hammock, so I'm not complaining. It's also screened in, which makes a difference when you live in the state where mosquitoes hunt humans. 🙂 We have a candle chandelier over the table which makes dining on the porch at night so pretty. The combination of the candles and the fireflies dancing in our front garden make it feel like the set of A Midsummer Night's Dream.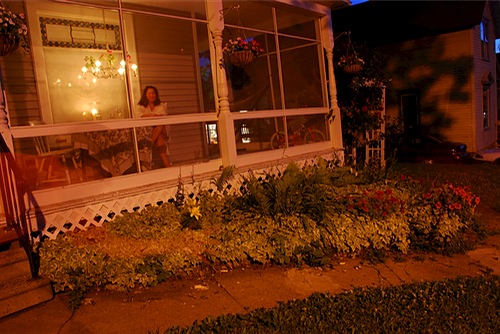 Yesterday Jeff and I got Chinese takeout and had a little 'picnic' on the front porch while it rained. It was Jeff's idea to get lunch to go and bring it home, and I'm so glad we did. It turned lunch into a sort of impromptu date. Here are some other fun ideas:
Set up 3-panel screens around your deck where you desire extra privacy
Stack patchwork quilts and knit blankets on a chair for evening and night time porch lounging and dining.
String clear, Italian globe lights everywhere to transform your outdoor room into an Italian piazza.
a little cart with wheels can hold plates, cups, napkins and silverware or double as a portable bar.
Treat yourself to new, colorful rag rugs every summer.
Tonight we're grilling out and I think I'll set the table on the front porch again. It's 73 degrees and gorgeous! Why spend the evening in the house? In fact…I think I'll go chill a bottle of wine and maybe take a little hammock nap before the hubby gets home.
How do you use your Fresh Air rooms?
~Melissa
You may enjoy these related posts: