Print Friendly Version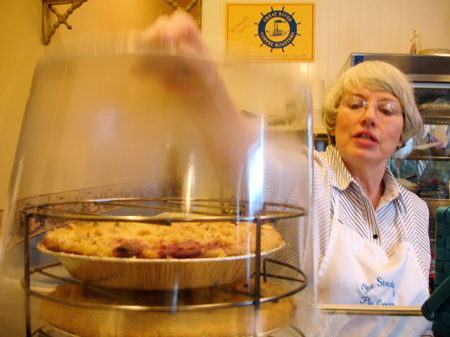 There is a beautiful string of little villages just across the bridge from Red Wing that are some of the most quaint destinations on Wisconsin's Great River Road. We usually make room on our calendars for a few happy excursions across the bridge every summer.
On Saturday, July 19th we decided to go over to Stockholm Wisconsin to check out their annual Stockholm Art Fair. Although it was July, the temperature down by the lake was breezy and perfect. The little art tents dotted the lawn under an abundance of shade trees. After perusing the artist's wares we walked out on a little point that jutted into the lake and watched sailboats floating lazily on the water. Ahhhhhh….so relaxing, I could have sat there for hours.
Before we left Stockholm we decided to go into their new pie and ice cream shoppe called "Stockholm Pie Company." It's an adorable, nostalgic little pie shop that has a little table inside and one out front. When you walk in the front door the intoxicating aroma of freshly baked pies of all kinds assails your senses. It's the kind of place that once you've been there and had the fantastic pie and ice cream, is almost impossible to pass up. Jeff got a mini blueberry pie with a scoop of the homemade vanilla ice cream, Gracie got a waffle cone with dark chocolate fudge ice cream, and I got a waffle cone with a classic ice cream called "Palmer House" which was originally created for The Palmer House Hotel in Chicago. It's this addictive combination of bing cherry-walnut ice cream that I just love.
If you're looking for a little road trip I highly recommend heading over to Wisconsin's Great river road and exploring the little towns of Maiden Rock, Stockholm and Pepin. Oh, and if you know you'll be stopping at Stockholm Pie Company, give me a call so I can meet you there 🙂
You may enjoy these related posts: